Sayantan Haldar, Research Intern, ICS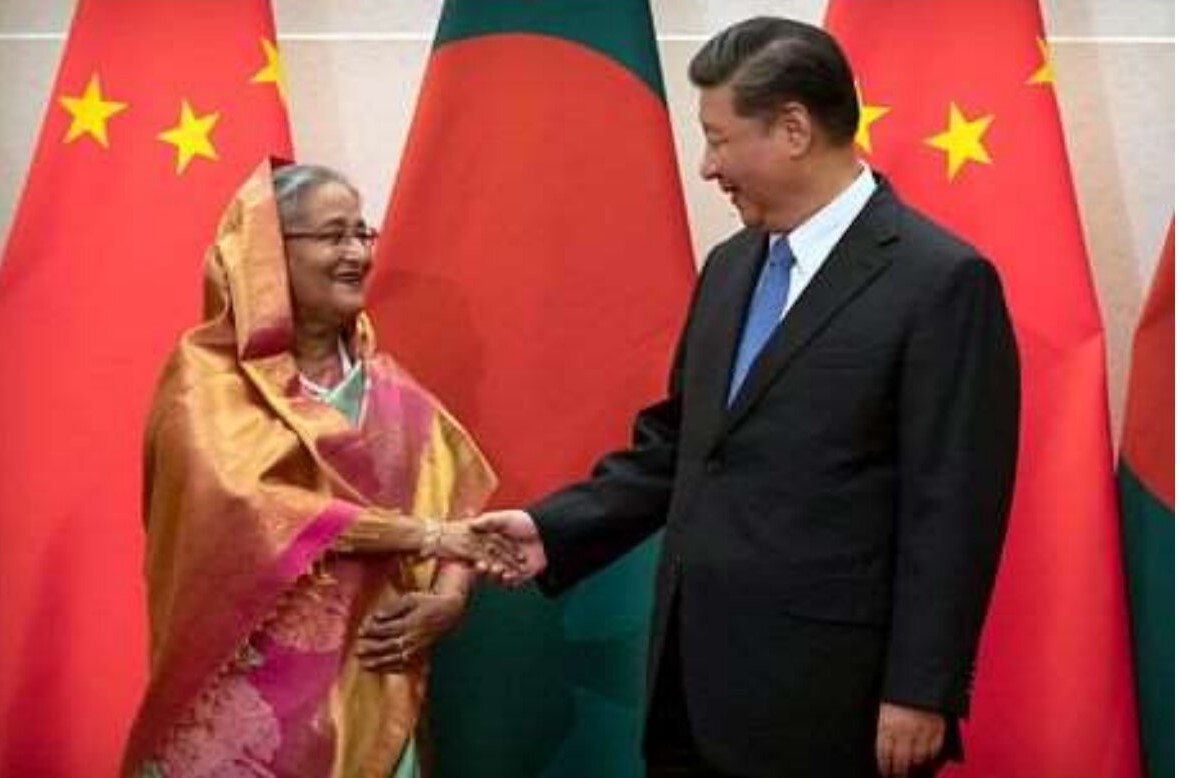 On 14 October, 2016, Chinese President Xi Jinping created history by being the first Chinese leader to visit Bangladesh in 30 years. This visit bears great importance for the deepening of Sino-Bangladesh relations as well as China's increasing outreach towards South Asia. Bangladesh is situated at the heart of the Bay of Bengal which makes it a strategically indispensible country in China's growing network along the 21st Century Maritime Silk Route and the New Silk Road. China-Bangladesh relations dates back to 1976 when Beijing began diplomatic relations with Dhaka. However, President Xi's visit to Dhaka in 2016 has been seen as an important development in the Sino-Bangladesh relations, especially after the onset of the Belt and Road Initiative (BRI). Bangladesh has responded positively to the BRI drawing some criticism from India which is a dominating factor in Bangladesh's foreign policy, particularly in the neighborhood. Bangladesh is a developing country with major demand for infrastructure development which has largely inspired its engagement with China, while its strategic location has significantly shaped China's outreach. Therefore, it is important to take stock of China's infrastructure development projects in Bangladesh.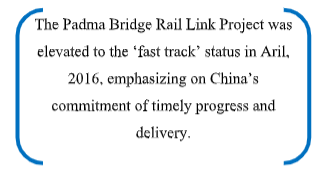 President Xi Jinping and Prime Minister Sheikh Hasina signed twenty-seven agreements worth billions of dollars and also elevated their relationship from 'a comprehensive partnership of cooperation' to a 'strategic partnership of cooperation' during the Chinese President's visit to Dhaka in 2016. Earlier in 2015, China emerged as the top trade partner of Bangladesh replacing India. China's growing engagement with Bangladesh has been based on steady economic linkages along with infrastructural assistance by China in Bangladesh. As a small country with a growing economy, Dhaka has positively embraced Beijing's engagement. Even during Prime Minister Sheikh Hasina's visit to China in July, 2019, the two sides agreed to enhance cooperation on trade, defense and infrastructure projects, which have further deepened China-Bangladesh ties.
The Padma Bridge Rail Link Project is one of the flagship projects undertaken by China in Bangladesh which aims to connect Dhaka with Jessore through the Padma Bridge. The estimated budget of the project is approximately BDT 40, 000 Crores jointly sponsored by the Exim Bank of China and Bangladesh government. The project began in 2016 and is aimed to be completed by 2024. The Padma rail project has been divided into three phases connecting Dhaka to Mawa, Mawa to Bhanga and Bhanga to Jessore. Rail connectivity is an important instrument for the bourgeoning market of Bangladesh. The Padma Bridge Rail project in particular is important to Bangladesh as it improve accessibility to Dhaka with central and south-western regions of the country and provides a shorter alternative to the Dhaka-Jessore-Khulna railway connectivity. It is also important to Bangladesh as it is expected to ensure socio-economic development and minimize regional disparity. China's involvement in this project pertains to funding it. China is funding 85% of the project while the rest is funded by local contractors in Bangladesh. Interestingly the project was elevated to the 'fast track' status in Aril, 2016, emphasizing on China's commitment of timely progress and delivery. This can be seen as an attempt by China to establish itself as a better alternative to India in the region, because one of the major issues flagged off by most countries in India's neighborhood concerns New Delhi's delivery deficiency. Infrastructure development in Bangladesh is also a strategically important sector for China to establish itself in, as it would increase greater dependence of Dhaka on Beijing. The biggest hindrance to the project so far has been the operational discontinuity caused by the Covid-19 pandemic. According to Bangladesh's Road Transport and Bridges Minister's briefing, the infrastructural progress of the project is 24.43% and the financial progress is at 30.52% until May.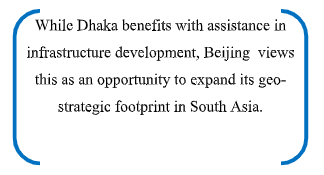 Another important project undertaken by China in Bangladesh is the Payra Deep Sea Port. The Payra shipping port is situated at the Patuakhali region of Bangladesh on the banks of the Bay of Bengal. This project will be given shape by China Harbor Engineering Company (CHEC) and China State Engineering and Construction Company (CSCEC). China's interest in this project is not a matter of surprise as it is strategically situated and falls in line with China's string of maritime bases across the Indian Ocean region. The total cost of the port is expected to be between USD 11 billion to 15 billion. For long, China has expressed its interest in building port projects in Bangladesh. The Payra port project was inaugurated in November, 2013, and started operating in 2016. This project holds great significance for Bangladesh as it is expected to facilitate internal development. The deep-sea port is vital for reinvigorating Bangladesh's internal connectivity which will boost its booming economy. Bangladesh has however made it very clear that it is not meant to be developed as a Chinese naval base, as has been the experience with Gwadar and Hambantota in the past. Interestingly, China's involvement in this project has not aroused suspicion in India as well, primarily because it does not follow the 'field of dreams' approach. The Payra port will also be complemented by the Padma Rail Link project, as the latter is expected to create opportunity to construct a second line in this route and connect Barisal & Payra Deep Sea Port. Even though there have been questions about the feasibility of this project, from China's perspective, projects like this help Beijing engage its bloated state-owned enterprises and increase dependence of other countries on China.
While Bangladesh's ties with China have been steadily growing, Prime Minister Sheikh Hasina has also maintained a balanced relationship with India. Notably, she described Bangladesh's relations with India as 'organic' and 'beyond a few billions of dollars of trade' at the World Economic Forum in Dalian in 2019, reiterating her bonhomie with India. Towards this end, New Delhi and Dhaka have made progress in strengthening their connectivity linkages which have, for instance, manifested in terms of the shipment of the cargo vessel from Kolkata to Agartala via Chittagong for the first time in fifty-five years. However, participating in the BRI has been a strongly felt need in the Dhaka making China emerge as the seemingly perfect fit to alter Bangladesh's infrastructure deficit. The two countries have increasingly shared more comfort in jointly developing infrastructure projects which have been beneficial to both. While Dhaka benefits with assistance in infrastructure development, Beijing also views this as an opportunity to expand its geo-strategic footprint in South Asia. It is important for Dhaka to draw lessons from fellow South Asian small-states like Sri Lanka and cautiously engage with China. However, Bangladesh has been firm on its view of engaging with China at a level that is mutually beneficial to both. Infrastructure development has been at the heart of this relationship, and is expected to strengthen further in light of the current Covid-19 pandemic. While the crisis has been a hindrance to the existing projects which were under progress, it has also opened a new avenue for both the countries to cooperate on health infrastructure. Bangladesh-s recent demand of priority for cooperation from China reaffirms their willingness to cooperate. Towards this end, Chinese Ambassador to Bangladesh, Li Jinming has reassured Bangladesh that China will remain its 'most reliable' partner.