Aadil Sud, Research Intern, ICS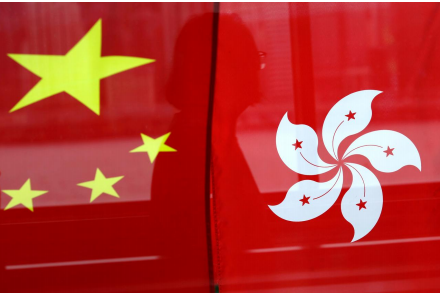 In early May 2020, China announced its plan to draft a new National Security Law (NSL) for Hong Kong, a move long required under Hong Kong basic law, but that too should have explicitly been written and enacted by the Hong Kong government. According to the South China Morning Post (South China Morning Post, 2020), the National People's Congress Standing Committee unanimously voted to enact the law into power, taking effect the same day. This was a significant move as the law was passed weeks after it was announced, bypassing the Hong Kong legislature, with the text being kept secret from the public and even the Hong Kong government until it was enacted. It drew diverse reactions from around the world, most notably from the US, where Secretary of State Mike Pompeo called the decision the 'latest in a series of actions that fundamentally undermine Hong Kong's autonomy and freedoms' and certified to congress that Hong Kong was no longer autonomous, with President Trump announcing that his administration would end Hong Kong's trade privileges. The UK also announced that if passed, Britain would open a route for all Hong Kong residents born under British rule to apply for and become British citizens, numbering to almost three million people.
Under the law, acts of secession, subversion, terrorism, and collusion with a foreign country are all seen as endangering national security. The law has been met with criticism by activists domestically as well as internationally. According to human rights organisations such as Amnesty International, 'Endangering national security' remains a very vague term that can be used to refer to anything and everything. The terms are so broadly defined that they can become catch-all offences used in politically motivated prosecutions with potentially heavy penalties. The law gives central, as well as Hong Kong governments the power to oversee and manage schools, social organisations, media, and the internet in Hong Kong. Additionally, suspects can be removed to Mainland China, with cases being tried within the Mainland criminal justice system and under their laws, which is of major concern, as China has an estimated conviction rate of 99% in Mainland courts.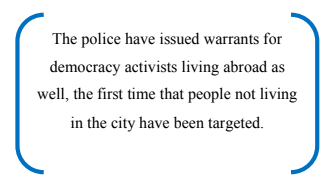 This move has caused massive changes within the legal capacities of investigating authorities, allowing them to search properties, restrict travel, freeze assets, and engage in covert surveillance without a court order. Authorities can also require information from organisations and people even if it is self-incriminating and have the power to levy fines or imprisonment for failure to comply, a gross dilution of human and internationally agreed human rights. The passing of the law has acted as a death knell to the Hong Kong democratic movement. One of the more high-profile arrests was that of Jimmy Lai, the publisher of the pro-democracy paper Apple Daily, who was arrested on suspicion of foreign collusion. Additionally, as the law does not differentiate between Hong Kong citizens and overseas activists, the police have issued warrants for democracy activists living abroad as well, the first time that people not living in the city have been targeted. This has led many legal experts in Chinese law to state that the re-evaluation of extradition and legal assistance agreements is a necessary move that foreign countries must make, to be able to protect their people in exercising their rights to free speech and expression.
The law has purposefully been left vague, which prevents people from understanding how and when they are in violation of it. This has led to the shutdown of numerous social media accounts run by activists and organisations, the removal of banners and stickers in support of the protests by shops and restaurants, and even moves such as libraries sorting out books on 'sensitive' issues (and those critical of the government). Many leaders of Hong Kong political groups and student-led movements have since resigned, citing the new law as the causative factor behind them. This has resulted in the disbanding of important groups such as Demosisto, over fears of being labelled as 'colluding with foreign forces'.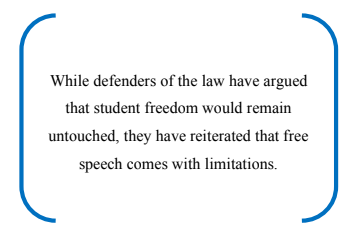 Legal aspects aside, the new law has also had a massive impact on academic freedom. According to a Global Times article, a large majority of the anti-extradition bill protestors were students. Carrie Lam has been quoted as saying that the arrests of teenagers and children at protests showed how city campuses had been influenced by forces hostile to both local and central governments. With this move, children as young as kindergartners are to be taught about this new law and the consequences it entails. While defenders of the law have argued that student freedom would remain untouched, they have reiterated that free speech comes with limitations. Most notably, Regina Ip, chairperson of the New People's Party stated that 'You can't just allow teachers to talk, and impose their views, free for all', and that 'critical thinking does not mean training people to criticize or attack.'
There has been a commensurate impact of the policy in China studies in universities and colleges abroad as well. To try and safeguard students (especially those from China and Hong Kong) from the danger of frivolous litigation, Students in Chinese Politics classes at Princeton plan to use codes instead of names on their work to protect their identities. At Amherst, professors are considering anonymous online chats so students can speak freely, without fear or repercussion. Similarly, at Harvard Business School, students may excuse themselves from discussing potentially sensitive topics if they are worried about the risks. Another option put forth is to use codes to refer to sensitive events such as Tiananmen Square or Xinjiang. Such code switching is not dissimilar to what already happens on WeChat in China. As prestigious schools such as those in the Ivy League have thousands of Chinese students, and major donations from China, they aim to protect both their students, as well as their donors from prosecution by Chinese authorities.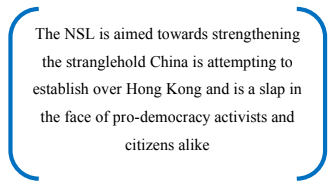 Conclusion
The standards of free debate and parlance in academia and Hong Kong society have been sent into a tizzy following the passing of this law, and institutions worldwide are working to come up with methods to protect their students, especially ones from mainland China and Hong Kong, from any danger of litigation or arrest. It can be gauged that the CCP's goal is to create a new generation of 'loyal' Hong Kong youth, aiming for a strategy of institutional and social control that could undermine Hong Kong's reputation for academic freedom. The NSL is aimed towards strengthening the stranglehold China is attempting to establish over Hong Kong and is a slap in the face of pro-democracy activists and citizens alike. In line with the expectations of the 'One Country, Two Systems' ideology, China must proceed to properly clarify how and when the law would apply, and to whom it should apply. The potential for misuse of this law is immense. Any effort for a nation to stifle democratic dissent against it (potentially around the world), especially for those most affected by it (those who reside in Hong Kong itself) by threat of prosecution is immensely condemnable, and should be of utmost concern for activists, governments, and citizens of a globalised world.