Sudarshan Gupta, Research Intern, ICS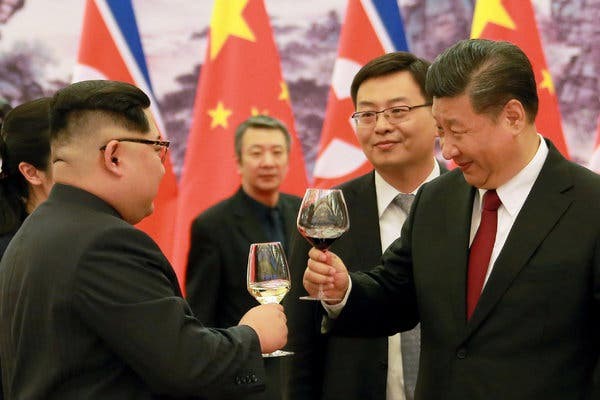 Economic sanctions are imposed to coerce the target country to alter its policies or change its behavior. If the cost of sanctions to the target country is not substantial or if the threat is not credible, then there is a high chance that sanctions will fail to alter the behavior of the target country. This is what seems to be happening in the North Korean case. In October 2020, during a military parade, North Korea unveiled what experts believe to be one of the world's largest road-mobile, liquid-fueled Inter Continental Ballistic Missile (ICBM), possibly with a capability of carrying multiple nuclear warheads. International economic sanctions have failed to produce the desired result of denuclearization of North Korea, and instead, have increased politico-military instabilities in the region.
The United Nations Security Council passed resolution 2397 in December 2017 in response to North Korea's launch of ICBM Hwasong-15, imposing wide-ranging economic sanctions on the country. In addition to multilateral sanctions by the UN, the US has imposed unilateral sanctions on North Korea to impede the development of missile and nuclear technology. Given North Korea's high economic dependence on China, for sanctions to be effective, China's active and honest participation and cooperation are extremely crucial. China has asserted time and again that the North Korean issue should be resolved through dialogue and has supported a step-by-step process in which sanctions relief and security guarantees are provided in exchange for denuclearization. Most of the Chinese scholars argue that the improvement of geo-economic conditions and closer economic ties between North Korea and China is the only way to gradually induce North Korea to give up its nuclear program and open up to the world.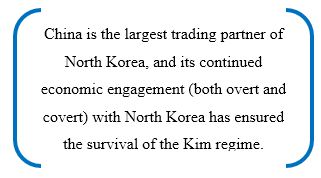 Following UN sanctions on North Korea after the 2016 nuclear test, China released a comprehensive list of sanctions imposed by it. Many items were allowed to be traded for "public welfare purposes," while other items whose trade benefitted "livelihood purposes" and did not support the nuclear or missile program were also allowed. Importantly, there has been no clear definition given out by the Chinese as to what exactly constitutes such items, making the enforcement of UN sanctions difficult, if not impossible.
China is the largest trading partner of North Korea, and its continued economic engagement (both overt and covert) with North Korea has ensured the survival of the Kim regime. The relationship between the two countries is symbiotic and beneficial to both of them. For North Korea, illicit coal exports (banned since 2017) to China are a huge source of foreign currency, generating about a third of its exports by value. Apart from coal, in a blatant disregard to UN sanctions, Chinese companies are trading with North Korea in a wide spectrum of goods such as sand, seafood, textiles, iron and steel, industrial machinery, vehicles, and gravel. In December 2020, Deputy Assistant Secretary for North Korea, Alex Wong, accused China of subverting the UN sanctions regime aimed at achieving denuclearization of North Korea, warning sanctions against China-based individuals and entities in response. Wong further added that the US had identified 555 separate occasions in the past year alone of ships transporting coal, sand, and other sanctioned goods from North Korea to China. According to one estimate, in just the first five months of 2020, North Korea imported more than 1.6 million barrels of refined petroleum through numerous ship-to-ship transfers of oil at sea (the 2017 sanctions imposed a limit of 500,000 barrels per year). China has repeatedly turned a blind eye to such illicit activities in its neighbourhood.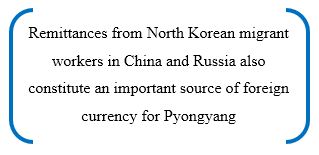 Over the years, North Korea has developed a sophisticated web of illicit financial networks to launder money in order to circumvent sanctions. The International Consortium of Investigative Journalists and NBC highlighted in their report of September 2020 that Chinese firms played a prominent role in laundering large sums of money through several American banks to shell companies in other countries like Cambodia between 2008 and 2017. The money then finally reached North Korea. According to a US Army report, China is possibly supporting North Korean illicit cyber activity through training and academic support, as there are hundreds of North Korean students who study in China and have access to advanced technology.
A report submitted to the UN Security Council by a Panel of Experts highlights the prohibited transfer by North Korea of its fishing rights to third countries, thus acting as a source of income for the country. The report further claims that hundreds of Chinese boats can be observed in North Korea's fishing zones, indicating that the country has circumvented sanctions by selling permits to Chinese fishermen. Remittances from North Korean migrant workers in China and Russia also constitute an important source of foreign currency for Pyongyang. The 2017 UN sanctions banned all such migrant workers and set a deadline for December 2019 for their repatriation. China, which employs more than 60,000 migrant workers, mostly in provinces adjacent to North Korea, has conveniently disregarded the deadline set by the UN.
Kim Jong-un's rare acknowledgment of the mistakes in the government's five-year economic strategy from 2016 to 2020 at the eighth congress of the Worker's Party of Korea indicates the gravity of economic problems that North Korea is facing. The disruptions in economic activities caused by the COVID-19 pandemic and devastation of the country's infrastructure by typhoons have much more seriously impacted North Korea's economy in 2020 than the economic sanctions. However, the regime in North Korea remains pretty safe, stable, and unchallenged. Multilateral and unilateral sanctions by the US and its allies have been ineffective and miserably failed to achieve their goal of denuclearization. China has made sure that North Korea remains stable and has continued to undermine the sanctions regime, making the so-called US policy of "maximum pressure" an utter failure. US President-elect Joe Biden's administration is expected to be tougher on human rights issues and will cooperate more closely with allies, including South Korea, in the context of increasing tensions with China. It is unlikely that North Korea will get sanctions relief anytime soon. However, cooperation with China in enforcing these sanctions will be quite difficult, and Beijing will continue to undermine them.