Rama V. Baru,Professor, Centre of Social Medicine and Community Health, JNU and Honorary Fellow, ICS, Delhi and Madhurima Nundy, Fellow, Centre for Social and Economic Progress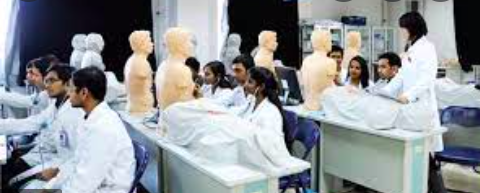 The COVID-19 pandemic has disrupted both school and higher education across the world with indefinite closure of institutions and online learning. For those who were enrolled or planning to enroll in professional courses like medicine especially in middle income countries like China and Russia, have faced the maximum disruption. According to the data put out by the MEA, the pandemic resulted in a 55 per cent dip in 2020 with only 2.6 lakhs students having gone abroad compared to 5.9 lakhs in the previous year. A small proportion of students travelling abroad is for medical education and nearly 30,000 of them are in China. The pandemic and diplomatic tensions between India and China has jeopardized the continuation of students studying medicine. The return of Indian students due to the first outbreak of COVID-19 in January 2020 has affected their study and career plans. The rising anxiety due to this uncertainty is palpable. As Susan Ann Varghese of Thiruvananthapuram and a final year medical student at China, said that she "cannot go back as the Chinese government is not allowing the Indian students to return and the universities which had taken initiative to send us back home are not responding".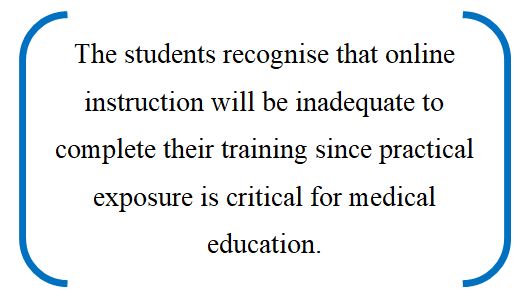 Meanwhile, students are being instructed online by their respective Chinese medical colleges. But online teaching is not recognised by the National Medical Commission (NMC) in India and hence it creates concerns for students transacting classes in this mode. The students recognise that online instruction will be inadequate to complete their training since practical exposure is critical for medical education. They are also facing issues in accessing online classes since Chinese apps are banned in India and students have to purchase VPN to access the online classes. As a result, the students feel that they have been left in a lurch by both the governments. A union of students studying medicine in China have expressed their anguish to the Indian government: "We are 25,000 Indian students studying in Chinese universities who have been forced to participate in online classes for the past 17 months because of travel and visa restrictions. Our medical study requires a lot of practical and group work, but our entry to China and our respective universities have been banned for the past year-and-a-half and we are suffering every day." With little hopes of returning to their campuses anytime soon, Indian medical students enrolled in China are now looking at mid-course transfers to institutes in India and other countries. However, this requires the NMC which is the apex administering body for medical education in India to allow the mid-course transfer. The NMC is silent on this matter for the moment.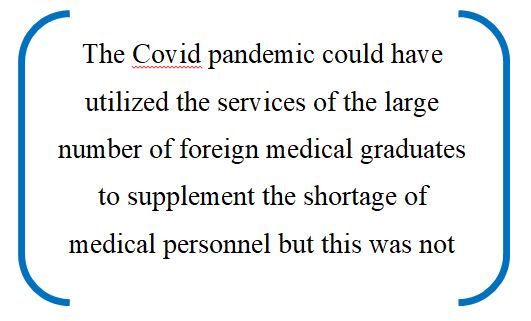 The plight of students who have returned from China and other countries is also filled with anxiety and uncertainty since their employability is dependent on their clearing the Foreign Medical Graduate Examination. The pass percentage over the last few years has been low and is demoralizing for the students travelling abroad for medical education. The Covid pandemic could have utilized the services of the large number of foreign medical graduates to supplement the shortage of medical personnel but this was not done.

FMGE result statistics (2019-2021)
| | | | | | |
| --- | --- | --- | --- | --- | --- |
| Particulars | 2021 (December) | 2021 (June) | 2020 (December) | 2020 (June) | 2019 (December) |
| Number of candidates appeared | 23349 | 18,048 | 19,122 | 17,789 | 15663 |
| Number of aspirants qualified | 5665 (Pass % – 24.26) | 4,283 (Pass % – 23.73) | 3,722 (Pass % – 19.46) | 1,453 (Pass % – 8.16) | 4032 (Pass % – 25.74) |
| Number of failed candidates | 17607 | 12,895 | 13,713 | | 10026 |
| Number of absentees | 342 | 657 | 1,092 | – | – |
| Number of aspirants with withheld status | 77 | 213 | 136 | – | 1605 |
Clearly, the lack of policy engagement and direction from the NMC and the Indian government to address the concerns of continuing students and those who have completed their course in China and other countries is unfair. There needs to be a review of the FMGE process and some kind of parity with those who completed their medical education from public and private medical colleges in India. It is worth considering an exit exam for all medical graduates irrespective where they were trained, as a pre requisite for employability. This is a reform that has been suggested at various points in time but has received little attention from the professional bodies. On the one hand there is a move to increase the number of seats for the training of medical graduates and on the other there is little effort to find ways to engage with the large number of foreign medical graduates who are looking for employment. Clearly, this impasse cannot go on for much longer since it affects a large number of young professionals who at the moment are frustrated by the indecisive attitude of the NMC and the Indian government.