Kannan R Nair, Former Research Intern, ICS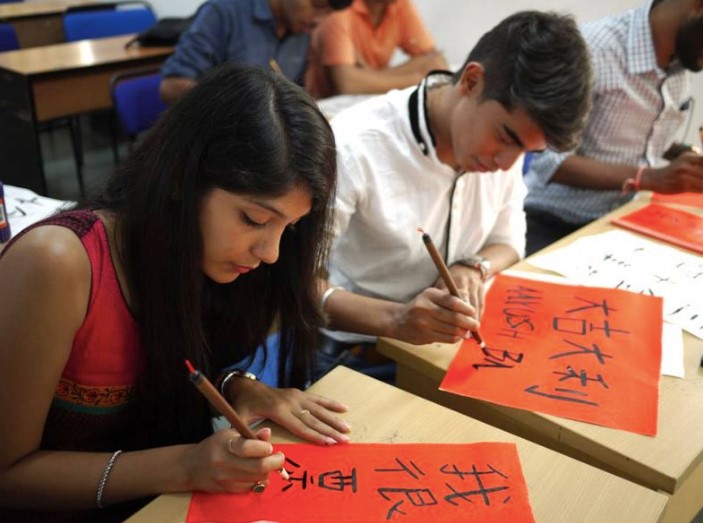 Source: TaiwanToday
Recent border tensions between India and China after the Galwan valley skirmishes has led to heated debates on the future of cooperation between the emerging markets in Asia. Amongst emerging bilateral deficiencies beyond the strategic, the partnership in higher education is being contested. The Confucius Institutes, which teaches Mandarin and acts as a primal agent of Chinese soft power in India is now under scrutiny after the new low in Beijing-New Delhi relations. These developments are reflected in the New Education Policy (NEP) released by the Government of India by taking down Mandarin from the list of foreign languages. Contextualising this, in order to broaden the scope of student enthusiasm to study China better, Taiwan could act as the best possible alternative.
The primary concern for students opting for higher education in foreign countries is post-study work opportunities, quality infrastructure and decent remuneration. In the case of Taiwan, sustained rapid economic development is reflected in the development of higher education wherewithal. According to QS Asia University Ranking 2020, twenty-seven Taiwanese universities are in the top 300. The Times Higher Education Report shows that Taiwan is one of the top ten places with the most inexpensive fee structure to study at university level. Taiwan becomes a better alternative in terms of cost of living in comparison with other top educational hotspots in Asia like Singapore, South Korea, Hong Kong and Japan.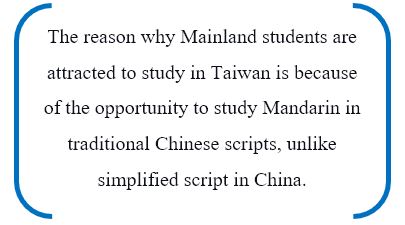 Education in New Southbound Policy
In 2016 under the leadership of Tsai Ing-Wen, the Democratic Progressive Party (DPP) won elections against Ma Ying-jeou of Kuomintang (KMT). The New Southbound Policy (NSP) announced in 2016 was the political response of DPP against policy orientations of the KMT towards Mainland China. The NSP was designed to diversify Taipei's economic, cultural, educational and technological relations to South and Southeast Asia.
The KMT government led by Ma Ying-jeou in 2010, signed the Economic Cooperation Framework Agreement (ECFA) with China, which had a decisive role in intensifying Taiwan's economic over-reliance with Beijing. This engagement reflected in the expansion of the number of students from Mainland China to Taiwan. There are also reasons which attract Mainland students to study in Taiwan is the opportunity to study Mandarin in traditional Chinese scripts, unlike simplified script in China. The percentage of international students in Taiwan from China rose from 21% in 2011 to 36% in 2016. Over the same period, the students from NSP target countries reduced from 31% to 27%.
When anti-Beijing Tsai Ing-Wen came into power in 2016, Taiwan witnessed a policy shift that modified the stance of the previous government. Tsai stressed in assorting choices in the realm of higher education beyond China. In the aegis of NSP, Tsai initiated a New Southbound Talent Development Plan in 2016. This plan acted as a platform to conduct high-quality research in Taiwan and encourage interflow of students across the globe. The Ministry of Education allotted 0.4% of the total budget to NSP in 2017. The spending on education in NSP was increased in the immediate year, by an increase of 70% to 0.7%. Even Though NSP showed limited success in advancing political relations with target countries; it paved the way for the omnipresence of a diverse international student community. For the first time in 2017, students from Southeast Asia studying in Taiwan surpassed numbers of mainland Chinese students in Taiwan.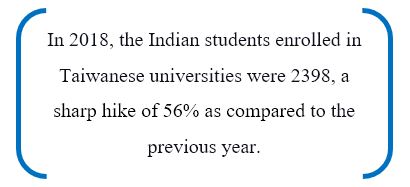 The 'Taiwan' opportunity for India
Taiwan is leveraging its economic potential to transform it into a 'Higher Education Hub'. The aim is to diversify Taiwan's higher education leveraging potential beyond Mainland China. In that, to increase the outreach of NSP across South Asia, India can act as the most reliable partner. For India, balancing China needs multifaceted strategies, and in the soft power realm, Taiwan is the appropriate opportunity. To understand and decipher China in a better way it is necessary to propagate Mandarin learning centres across India.
However, recent developments question the transparency of Confucius Institutes in India. The institute acted as an official word on Chinese education. It was accused previously in different countries, like the United States, Israel, Australia and Canada charged with espionage and misuse of political influence. In this context, the Taiwan Education Center (TEC) in India gets utmost importance. TECs are institutes funded by the Taiwanese education ministry specialized in teaching Mandarin, Chinese History and Culture and to foster international academic collaboration. Currently, India has eight TECs associated with prestigious institutes like Jawaharlal Nehru University, IIT Bombay and IIT Madras, Jamia Millia Islamia, O.P. Jindal Global University, Amity University, Chitkara University and Sri Ramaswamy Memorial Institute of Science and Technology in Chennai.
It is Kapil Sibal who first went on to take a pro-Taiwan position to invite 10000 mandarin instructors to India for popularising Mandarin education in High Schools across India. The proposal went into no effect considering possible responses from Beijing. Nevertheless, inspecting the vulnerabilities in the current situation, it is time that Indian policymakers replace non-functional Confucius institutes with TECs to promote Chinese language training, Chinese culture and academic exchanges.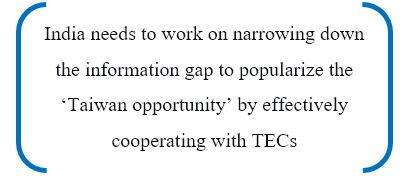 In 2018, the Indian students enrolled in Taiwanese universities were 2398, a sharp hike of 56% as compared to the previous year. Over the last decade, about 300 Indian students have availed scholarships to study in Taiwan. A MoU was signed between Association of Indian Universities and Foundation for International Cooperation in Higher Education of Taiwan in 2010 for mutual recognition of academic degrees. The recognition will enhance more academic exchanges and transactions in higher education. As of 2015-16, among the NSP target countries, only 4% are from India studying in Taiwan. Malaysia tops the list by 52%, second being Indonesia with 15.4 per cent. In total, overseas students studying in Taiwan from NSP target countries, 85% are from Southeast Asia.
Analyzing the outreach of NSP beyond China, available data shows its evidence only in Southeast Asia. India's disposition in tapping Taiwan's potential and policy proposals discerning cooperation in education has shown meagre results. Especially in higher education, India needs to work on narrowing down the information gap to popularize the 'Taiwan opportunity' by effectively cooperating with TECs in this regard. New Delhi should also welcome Taiwanese students to study in prestigious institutes across India by providing scholarships.