Hemant Adlakha, Vice Chairperson, ICS and Associate Professor, Jawaharlal Nehru University.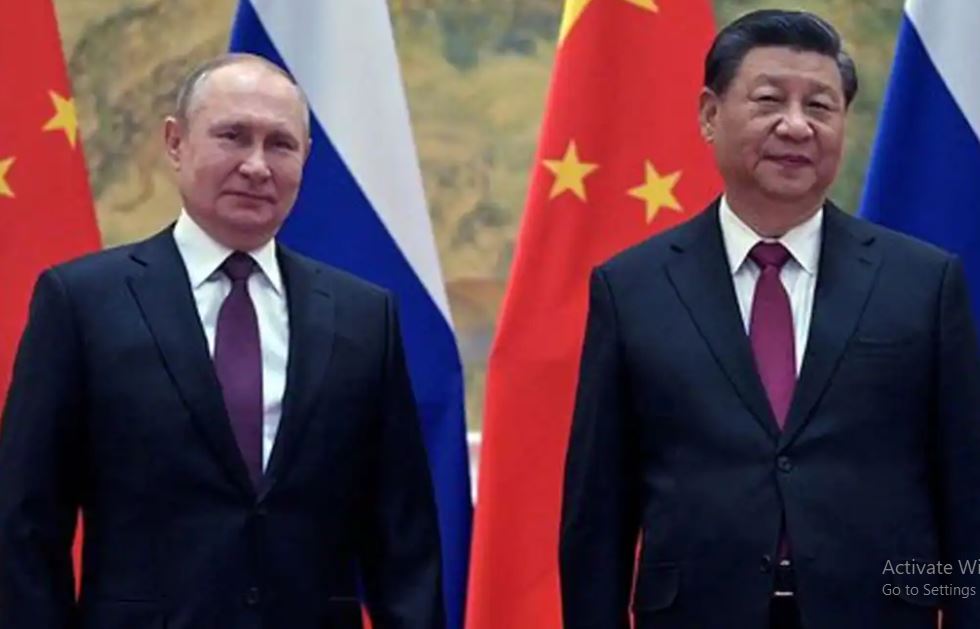 Very few Beijingers are aware that most Western embassies in the capital's "Embassy Alley" have put up Ukrainian solidarity signs near their entrances. No, not because the area is "no entry zone" for everyday strollers, but because as they say, the area is "far from the madding crowd." Yet the Ukraine war has attracted the country's netizens and citizens' so much attention that a Beijing-based foreign commentator says "a rupture has taken place." Furthermore, a leading Chinese newspaper has even equated the unprecedented "rupture" with as if China is participating in the war.

To believe what most foreign affairs experts in China tell us, Chinese people usually do not pay attention to international news, or for that matter to world events unless of course China is directly involved. However, the degree and the passion with which a large number of Chinese have come out to express their views and opinion, even take sides, has surprised one and all. Part of the reason why the Russia-Ukraine war has opened up "a new battlefield" of public opinion in China is Beijing's pro-Ukraine and pro-Russia friendly image in the Chinese media in recent years. Thanks largely to wide media coverage as recently as January this year when Xi-Zelensky pictures were flashed in various media in China as the two presidents exchanged congratulatory messages celebrating thirty years of diplomatic ties between Beijing and Kyiv.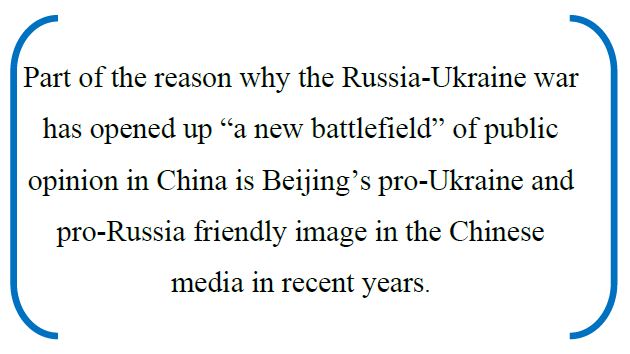 A more significant factor why most Chinese do not see Ukraine as a country far away is, Ukraine is the hub of the Belt and Road Initiative, or "One Belt, One Road" strategy – interestingly, in the Chinese media the BRI is generally referred to as Yidai yilu, or OBOR. Many Chinese see OBOR, President Xi's favourite and China's important infrastructure and overseas investment project, as a major casualty of the Ukrainian war. According to Professor Wang Yiliang of Shanghai's prestigious Fudan University, "Europe is a crucial market for China's 'Belt and Road' land projects. China's "Belt and Road" land projects may either face "blockade" or "OBOR" connectivity in the region may become increasingly dependent on Russian "protection. Therefore, the war between Russia and Ukraine has made Beijing's decisions to be cautious."
A far more important or perhaps equally controversial reason which is creating near vertical split between China's pro-Ukraine/pro-Russia public opinion is the absence of a clear "party line" on the situation from above. As Tom Clifford, a seasoned foreign affairs analyst who has been living and writing from Beijing for long, has observed recently: "China's wait-and-see-inaction seems sclerotic. Chinese officials have sent out confusing and frankly incoherent statements. They stress, parrot like, the importance of territorial integrity but blame the US for the crisis." As a result of the Chinese leaderships' sclerosis, the country's all powerful censorship agencies too seemed clueless and floundered on the issue.
At another level, a huge controversy was created when a blogger on China's largest social media platform, Weibo – China's equivalent to Twitter etc., labelled those pro-Ukraine as "rightists" with a similar view as the position taken by the Western media and most liberal democracies; while calling all those who support Russia in the ongoing war as "leftists" with no independent thinking of their own. Reacting angrily to the blogger's "bogus" claim, Zhang Zhikun, a veteran and widely influential current affairs analyst wrote thus: "The debate caused by the ongoing war in Ukraine refuses to stop. Unlike at the beginning of the war, the debate is now no more about the war itself but has been extended into investigating the ideological roots of those taking part in it. This also explains why the debate is acquiring a high degree of polarization."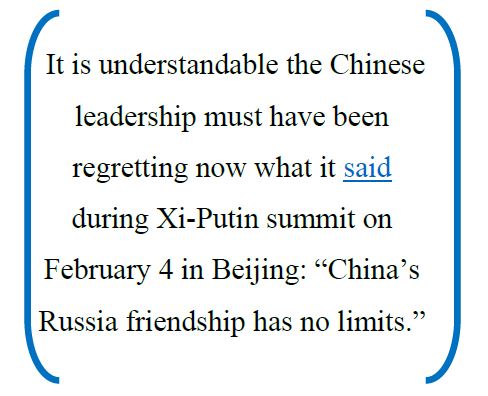 A no less pertinent dimension of the growing sharp divide in China over the Russian invasion in Ukraine is the shocking degree of cynical hype as manifested among China's hardened "left" (aka orthodox leftists). In a signed commentary, a Mao-faction ultra-left scholar, Wen Anjun, has named and accused several leading intellectuals from China's topmost universities of parroting "western speak." Anjun blames them for condemning Russia but not speaking a word of criticism against the US and Nato. To Wen Anjun and others of his ilk, what is most worrying about the people mentioned above is their worldview, their view of the US, and above all their perception of the CPC-led China. "Once China's re-unification war [with Taiwan] is launched in the future, all these people may endanger China by siding with the US and Taiwan independence," wrote Wen Anjun.
It is indeed true that the Ukraine war has shocked the world, aroused strong reactions in all corners of the world, and led to fierce debates. But it is also true that the degree of polarization in public opinion in China has not been witnessed in most countries. In addition to what is highlighted above, other bizarre public reactions to the ongoing war include a section of Chinese netizens unashamedly displaying misogynist attitudes by writing blogs with a flurry of tone-deaf jokes. What outraged many within China and abroad was surfacing of ham-handed humour such as calls for "willing to shelter 18- to 24-year-old Ukrainian beauties." On the other hand, some Chinese observers sounded alarm bells, warning that China's "filthy wealthy" rich – such as "comprador capitalists" Jack Ma, Pony Ma and others – along with all those who are backing Ukraine are all anti-China, anti-Chinese motherland, and anti-CPC.
Finally, no one in China denies, just like no one in the world is in doubt, as far as China is concerned the Russia-Ukraine war is not a good war. It is understandable the Chinese leadership must have been regretting now what it said during Xi-Putin summit on February 4 in Beijing: "China's Russia friendship has no limits." But given the country's political system and the political culture, not at all surprising that no one in the leadership will openly admit "of being caught wrong-footed by a world that is rapidly changing."
The views expressed here are those of the author(s), and not necessarily of the Institute of Chinese Studies.