Hemant Adlakha, Vice Chairperson, ICS and Associate Professor, Jawaharlal Nehru University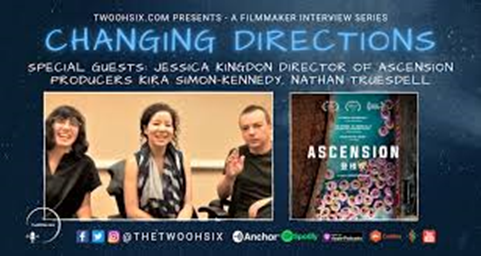 Premiered at New York's Tribeca Film Festival last June, where it won Best Documentary Feature, the American indie documentary Ascension (登楼叹 Dēnglóu tàn) was released in cinemas and on MTV this year on January 14. A surprise contender for the best Oscar documentary this year, the film explores the serious theme of class and labour in today's China. Losing out to the likes of Questlove's Summer of Soul for the best Academy Award documentary prize did not disappoint its Chinese-American director Jessica Kingdon, who was herself surprised to see the film in contention for the coveted award. "This isn't the kind of film that would go to the Oscars or something," she said in an interview recently.
But the film is already on an award winning spree. Besides Tribeca best documentary feature award, it has won a 98% "fresh rating" on the prestigious and the world's leading aggregator of movie and TV show reviews from critics – Rotten Tomatoes. Moreover, Ascension has been getting rave reviews from film critics across the globe. In London, the Financial Times film critic wrote: "Ascension – eye-popping portrait of China's production and consumption." Patrick McDonald of HollywoodChicago.com observed: "A fresh view of modern China, stripping away the mystery of their culture in an effort to survive. Jessica Kingdon creates a work of art & cinema that defines Chinese dreams." In India, the online newspaper firstpost.com applauded: "The meaning of the word 'Orwellian' may be overused and overstretched nowadays, but it's really the most fitting descriptor for Jessica Kingdon's absurdist portrait of contemporary China as the world's factory."
Some critics described the film as politically charged and ascribed its observant director as declaring socialist China's "descent into capitalist excess" as bizarre. To some other critics, the debutant director's docu feature powerfully shows the sharpening of the contradiction between class and labour in reform-era China. In her own words, Kingdon was quite candid in admitting that before arriving in China in 2019 to shoot her film, she wasn't aware how much "the world's factory" had transformed into a highly consumerist society. After the completion of the film which took Kingdon and her film crew to more than fifty locations across China, the New York born filmmaker couldn't hide her surprise discovery about China and said: "China is definitely a kind of mirror for America."
Typically, as third or fourth generation Chinese born and brought up overseas, Kingdon had very little or no connection with her roots as she grew up. However, she chose the title of her movie from a poem written in the first year of Republican China in 1912 by her great-grandfather. Zheng Zi, her great-grandfather was a poet of established reputation in Hunan – the central Chinese province which was also the birthplace of Mao Zedong. Kingdon's grandparents had migrated to America in 1949 following the defeat of the Kuomintang in China's Civil War. On being asked why she chose China as the subject for her debut movie, Kingdon was a bit nostalgic in her reply: "Filming in China was partly a way to untangle my relationship with the country of my roots. At the same time, I had this fascination and curiosity about my cultural heritage…moreover, everyone [in the US] was talking about China as this new global superpower."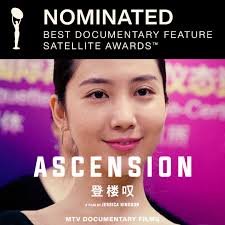 The movie – according to the introductory brochure – is observational and essayistic and is an attempt to examine three things in "capitalist" China, i.e. the factory, the worker and the wealthy. In Kingdon's own words, the aim of Ascension is to draw – and not influence – the viewers' attention to the universal aspects of industrial creation and consumption, and pose questions about who benefits from these industrial enterprises. That is the reason why we decided to keep the movie free of dialogue, narrative or a narrator, Kingdon emphasized. She further contended, "In any nation, be it America or elsewhere, the benefits are rarely apparent at the bottom of the chain." This explains why a critic declared that the film "slyly observes China's transition from the world's factory to a massive consumer society."
Finally, Kingdon claims Ascension is less about focusing on labour disputes and is more about exploring the allure of the "Chinese dream" and the faith people are willing to place in it. Yet, perhaps unintentionally, thanks to the film's spectacular images it does effectively come across to viewers as "a wake-up call" essentially conveying that not everyone is going to end up on top. "The film isn't saying that resistance to power doesn't exist, but in this film, I was just leaning into that quest for upward mobility," the filmmaker told an interviewer. Also, the film inadvertently reflects upon the generations of Chinese struggling to figure out – trapped between contradictions of socialist ideals and capitalist greed – how they matter to themselves and to the society around them.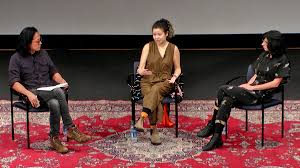 In its official description, Ascension is introduced as saying "The film ascends through the levels of the capitalist structure: the factory production, to aspirational consumers, and the elites revelling to a new level of hedonistic enjoyment." True, the description may not be exclusive or specific to China. And additionally, though the film is not yet available on the Chinese internet or in theatres, the producers are hopeful Ascension will eventually reach Chinese audiences. As one private viewer in China reacted after watching the film: "Anyone intelligent would know after watching Ascension that 'Chinese dream' is the 'dream' the Chinese Communist Party ruled 'socialism' promises. In reality, there is no dream and there is no socialism."Or as a film critic recently observed, "In traveling up the rungs of China's social ladder, the filmmaker shows that the contemporary 'Chinese Dream' … 'remains an elusive fantasy for most'."