–Chitra Nair, Research Intern, ICS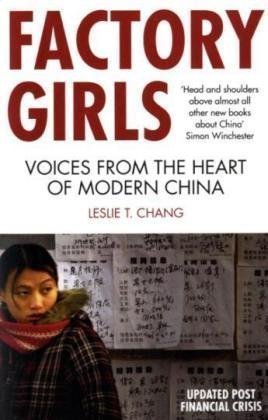 Factory Girls: Voices from the Heart of Modern China by Chinese-American journalist Leslie T. Chang is an enthralling exploration of the lives of young women working in the factories of China. Chang states that her project aimed to question foreign media's portrayal of migration in China as an act of desperation with little to no benefits for the workers. Through this book, she sought to understand and question the differences in the experiences of a young teenager "going out" in modern China and the way migration had previously been portrayed.
The book is set in Dongguan, an industrial city in Guangdong Province, popularly called the "factory of the world". Millions of workers from villages "go out" (出去 chū qù) to Dongguan in order to escape their banal lives in the villages. Chang delves into the experiences of two girls, Lu Qingmin and Wu Chunming, expressing their aspirations, anxieties, and resilience through their narratives. She skillfully integrates these accounts with the socio-cultural context of an industrialising China to provide the readers with a thorough grasp of the milieu of which these migrant workers are a part.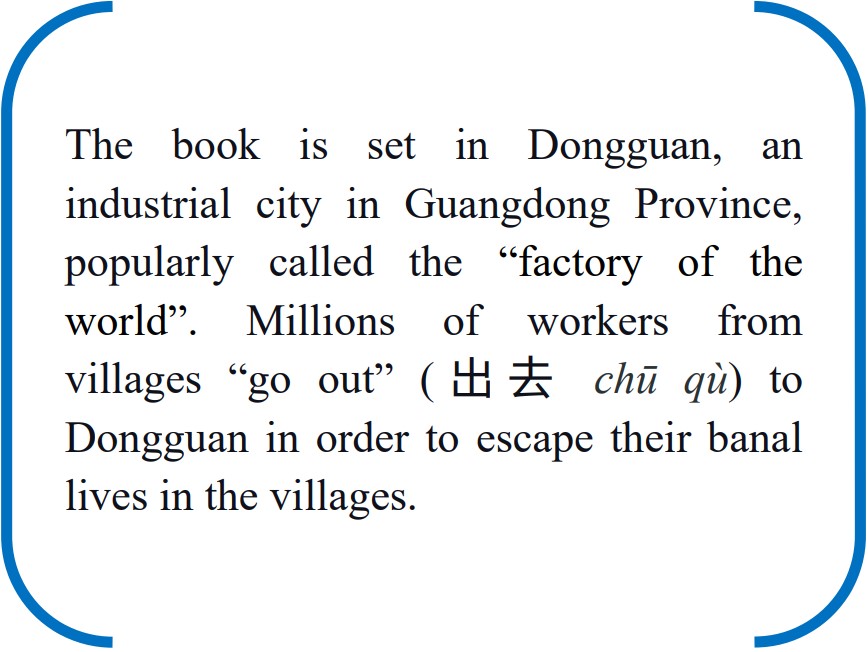 Chang combines comprehensive interviews, personal anecdotes, and three years of extensive fieldwork to paint a vivid picture of the factory girls' daily lives, and explores their interpersonal relationships. Furthermore, she examines the complicated dynamics prevalent within the factories, where rivalries and friendships become entrenched in the pursuit of financial success. The author further explores how social media and technology have shaped the experiences and goals of these young women, offering insightful information on how globalisation and modernisation have affected these factory girls at an individual level.
Chang's ability to bring out the distinct personalities of the factory girls through her narration and present them as real people in contrast to nameless workers that one reads and hears about in the news is commendable. Through her immersive storytelling and in-depth research, Chang provides an intimate portrayal of the lives of these factory girls, revealing the complexities of China's rapid industrialisation and its double-edged impact on the lives of young migrant women. She emphasises the strange role their gender plays in allowing them to migrate in search of economic independence. Their male counterparts, however, are not afforded such opportunities since they are much more valued and there is a certain reluctance to let them migrate so far away from home. Thus, it is usually the women of rural China who migrate to industrial areas in times of need to support their low-income families. The author then highlights a certain sense of freedom provided to these women despite the exploitative working conditions. Living far away from their family affords them the choice to migrate to places where their parents, values and "outdated knowledge" (p. 120) hold little to no influence in their lives. Their economic advantages allow them a sense of authority over their household and village, the ability to jump jobs without inhibition and date men who are unlikely to obtain their parents' approval.
At the same time, the factory girls have to tackle an array of obstacles as they traverse the complexity of urban life, including long working hours with little pay, the pressure to send money back to their parents, social isolation, sex-delegated positions, complete alienation from both the process and product of labour, demand for proficiency in English and Cantonese for upward mobility and constant harassment from their superiors. The demands of factory work are physically and emotionally draining, leaving little time or energy for personal or social pursuits. These migrant women often sacrifice their education, relationships, and personal goals including any hopes of finding love, stability and having a family to meet the demands of their jobs. Despite the possibility of upward mobility, it can be difficult for many migrant women to break free from the vicious cycle of industrial work. Their ability to transition into higher-paying or more gratifying and organised occupations is hampered by their lack of formal education, limited English proficiency, and the preponderance of low-skilled work in urban regions. In this manner, their prospects for social mobility and personal development are constricted.
Chang subtly interweaves the research she conducts on her lineage and relatives throughout her book. In an interview, Chang states that by incorporating her family history into the book, she presents a "historical parallel" about people migrating from their villages to seek better opportunities. This autobiographical component helps bridge the gap between the author, the factory girls and the readers. Furthermore, it emphasises the importance of being aware of one's background when attempting to comprehend other's experiences. In this way, the personal aspect of Factory Girls enriches the story and provides readers with a deeper understanding of both the author and the factory girls. However, it is important to note that the author herself, is not a migrant worker and some of her perspectives on the lives of these workers may not correspond to their own.
While Factory Girls offers a detailed description of the lives of these migrant women, it sometimes lacks the overarching social context. The main focus of the novel is on Lu Qingmin and Wu Chunming's accounts. At times, this leads to the author overlooking the more significant structural problems that influence their reality. For example, the author highlights that the girls seem to live a very apolitical existence, removed from the happenings of the Communist Party of China and its leaders but at the same time does not explain whether this may be due to ignorance or an actual lack of the influence of politics in their lives. The latter is difficult to believe since Dongguan is located in a Special Economic Zone (SEZ), with labour laws that aim to attract Foreign Direct Investment, and do not benefit these workers. It must be noted, however, that this omission does not diminish the overall impact of the book.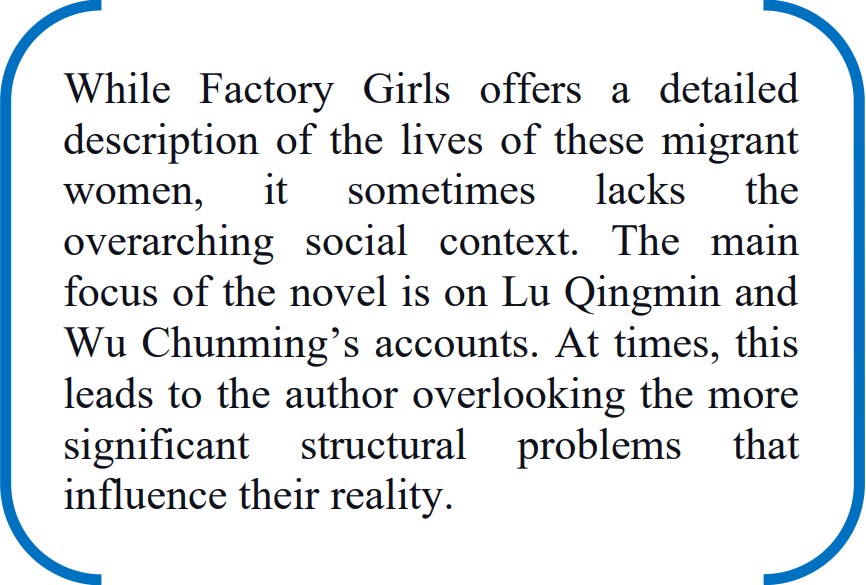 Through this book, the author provides a well-presented, cohesive and captivating account of the female migrant workers in Dongguan, who constitute a majority of its labour force. Chang highlights the tenacity of these women as they navigate and adapt to a rapidly changing China. Chang's Factory Girls is not the first book on the subject of the migration of women in China, but the majority of them have tended to concentrate on internal or external migration for different reasons, such as marriage. These include works by Davin, and Fan and Huang, among others. Other works have explored the concept of "leftover women", and have focused on societal pressures faced by unmarried women, however, Factory Girls stands in contrast, given its in-depth exploration of several themes, thus, adding significantly to the existing discourse.
By focusing on their individual stories, the author sheds light on broader themes of financial independence, urbanisation, and the impact of English proficiency in guaranteeing upward social mobility. Through this book, she accomplishes her initial goal of understanding the lives and motivations of young migrant women and ensures that it is a unique contribution to the existing literature on women, migration, and China.