Shreha Gupta, Research Intern ICS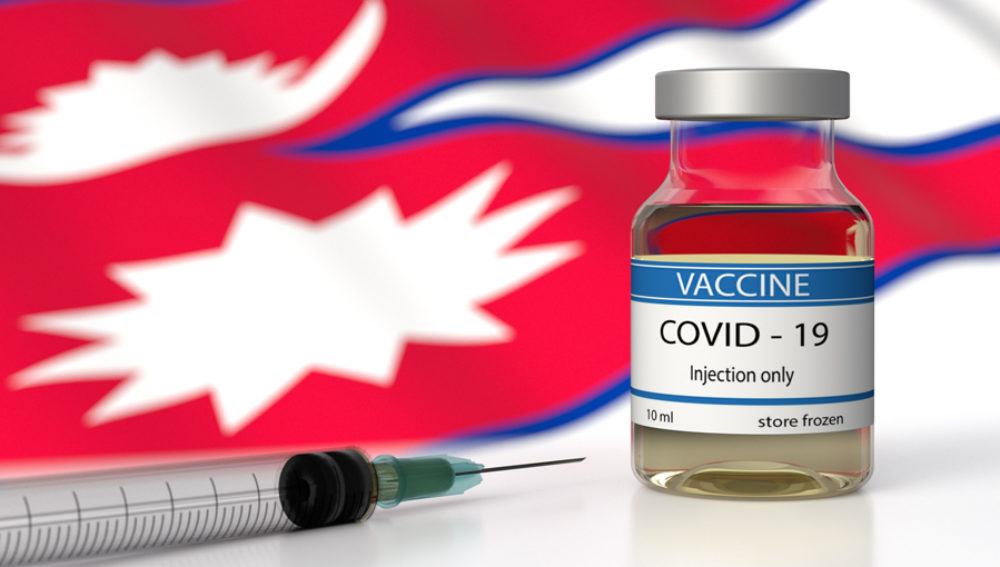 Nepal's vaccination drive against COVID-19 began on 27January, 2021 with the Oxford-AstraZeneca vaccine manufactured by the Serum Institute of India (SII) under the brand name Covishield. The campaign was launched with the one million doses of Covishield that India had provided under grant assistance in sync with its 'Neighbourhood First' Policy and 'Vaccine Maitri' Initiative.
On 17 February, 2021, Nepal signed a contract with SII and made the advance payment to procure two million doses of Covishield, out of which only a million doses were delivered. According to a report by Reuters, India had put a temporary hold on all major exports of the AstraZeneca Coronavirus shot made by SII to meet rising demands at home amid the raging second wave of Coronavirus. The second phase of the vaccination drive that began on 7March, 2021 was left in limbo, despite the country becoming one of the first in the world to launch the campaign.


However, India denies that restrictions were imposed on vaccine exports and maintained that it was trying to prioritise the demand at home. "India has not enforced any restrictions on exports of Covid-19 vaccines," said Arindam Bagchi, spokesperson for the Ministry of External Affairs of India during the weekly press briefing on 2April, 2021. "We will export vaccines taking into account the domestic demand", he added.

Following the inability expressed by SII to provide vaccine until the end of this year, the COVAX facility which is a vaccine pillar of the Access to Covid-19 Tools (ACT) Accelerator in partnership between Coalition for Epidemic Preparedness Innovations (CEPI), the Global Alliance for Vaccines and Immunization (GAVI), UNICEF and WHO, suggested that Nepal should explore appropriate alternatives apart from the Covishield vaccine.
Nepal began looking towards China to fill its vaccine shortfalls amid uncertainty over COVID-19 vaccine supplies from India. China had donated 1.8 million Covid vaccines developed by Sinopharm in two different grants of 800,000 doses and 1 million doses. On 29March 2021, Nepal received China-gifted 800,000 doses of vaccine as per the commitment of providing 500,000 doses made on 5February 2021 during a telephonic conversation between the foreign ministers of China and Nepal. Later, China decided to provide an additional 300,000 doses which increased the grant assistance of the COVID-19 vaccine for Nepal to 800,000 doses.
On 1June 2021, Nepal received another consignment of 800,000 doses of Vero Cell vaccine developed by the Chinese state-affiliated pharmaceutical giant Sinopharm, out of the 1 million doses of vaccine which were earlier announced to be provided on a grant basis as per the commitment made during a telephonic conversation between presidents of the two nations on 26May, 2021. The remaining 200,000 doses of the Vero Cell vaccine has been provided to Nepal by the Government of the Tibet Autonomous Region of China, Nepal's Ministry of Foreign Affairs stated in a release.
Nepal has also bought four million doses of the Vero Cell vaccine from China under an agreement with a non-disclosure clause, of which 800,000 doses have been received on 9 July 2021. On 16July, Hou Yanqi, Chinese Ambassador to Nepal informed the newly-appointed Nepalese Prime Minister Sher Bahadur Deuba that China will provide additional 1.6 million doses of the COVID-19 vaccine to Nepal in grant assistance. With this announcement, China has become by far the largest vaccine donating and exporting country to Nepal.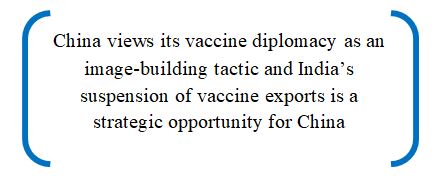 Ashok Pandey, Associate Research Fellow in Policy Research Institute mentioned in his Research Report that vaccine donations made by India helped to strengthened Nepal-India relations but the delay in the procurement thereafter and news of corruption in vaccine procurement began to reverse the gains. He also mentioned that the gesture of one million vaccine donations from China was widely appreciated in Nepal at a time when the country was in dire need of the vaccine.
Beijing's vaccine diplomacy will benefit its competition for influence in South Asia where India has traditionally been the dominant power. According to an article published in Voice of America (VOA), analysts have pointed out, "China moves in to fill the gap left by India, Beijing's "vaccine diplomacy" could give it leverage in the strategic Indian Ocean region, where it has been pushing its Belt and Road initiative that aims at building infrastructure projects across many countries".
Michael Kugelman, the Deputy Director of the Asia Program and Senior Associate for South Asia at the Wilson Center pointed out that China views its vaccine diplomacy as an image-building tactic and India's suspension of vaccine exports is a strategic opportunity for China.
In his article published in The Himalayan Times, retired Nepali Army lieutenant colonel Ashok Kumar Khand mentioned that the economic giants like India, China and the United States are "trying to regain a foothold in the countries of their interest or influence in the name of humanity through vaccine donations". According to him, "the vaccine donation gives China a key to deter India's monopolistic political influence over Nepal, counter the Indo-Pacific Strategy of the United States and the QUAD policy, and push the ambitious BRI project forward". He added, "Winning the Nepali sentiment for India, aligning the Nepali view with that of India against China's expanding influence in South Asia, including the Belt and Road Initiative (BRI), and control of Nepali politics from behind the curtain could be the hidden agenda behind India's vaccine diplomacy".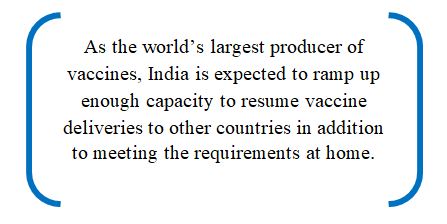 Prime Minister Narendra Modi held a telephonic conversation with Prime Minister Deuba on 19 July 2021 and assured early supply of covid vaccine to Nepal but India's image as a vaccine-giving nation and its soft power gains has been dented and could be further damaged if there is a long delay in exporting vaccines. As the world's largest producer of vaccines, India is expected to ramp up enough capacity to resume vaccine deliveries to other countries in addition to meeting the requirements at home. Michael Kugelman pointed out that New Delhi has the opportunity to reassert itself further down the road and India has an inherent comparative advantage over China because it is the world's top manufacturer of vaccines. Another advantage India's locally produced vaccine has over Chinese vaccines is its affordability. Although the price of the Chinese vaccine has not been disclosed owing to the non-disclosure clause, it is said to be around $10 per dose whereas, Nepal bought the jabs from the SII at $4 per dose.
India had an early movers advantage because it moved in with the commitment of initial large supplies but it lost ground due to the inability to provide vaccines either on a grant basis or fulfil commercial commitments made by SII. Nepal gave priority to vaccines produced in India because of reasons like, logistics, pricing, existing storage and transportation facilities in Nepal and India's assurance to facilitate procurement but India's inability to provide vaccines have created a vacuum that was filled in by China. According to Harsh Pant, Director Studies and Head Strategic Studies program at the Observer Research Foundation in New Delhi, "Given that this crisis will be with us for the foreseeable future, certainly there is going to be a sense of China becoming a very important player for many of these countries if India is not able to pick up some slack after a few months once things stabilize".
Nepal is still far from achieving the required inoculation for its population. According to the latest data (14th September 2021) of the Ministry of Health, 5243236 people or 17.4% of Nepal's 30 million population have been fully vaccinated. The lost ground could still be retrieved if India can ramp up its vaccine producing capacities and resumes providing vaccines to Nepal. It will be in India's interest to prioritize inoculating the Nepali population because the two countries share an open border and uninoculated people crossing the India-Nepal border on a daily basis could surge the coronavirus cases in both countries. In addition, India should also take lessons from the 2015 border blockade which pushed Nepal into China's lap and be cautious about China's attempt to fill the gap in vaccine shortage.
************************************************************************The author is thankful to her mentor, Ambassador Ashok K. Kantha, Director, Institute of Chinese Studies and former Ambassador of India to China, for his invaluable guidance and support in writing this article. The views expressed here are those of the author(s), and not necessarily of the mentor or the Institute of Chinese Studies.