Shreha Gupta, Research Intern ICS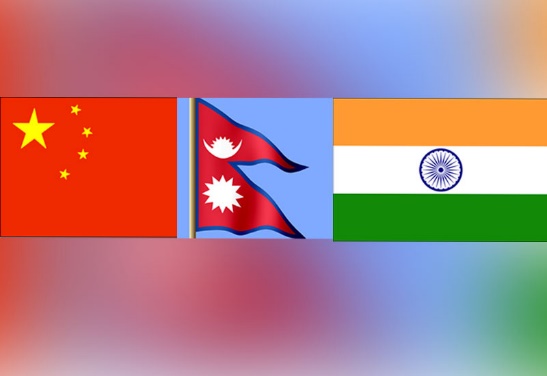 On 20 May 2021, the Supreme Court of Nepal intervened and overturned the decision of dissolving the Parliament in another landmark verdict. The verdict ordered the appointment of Sher Bahadur Deuba, Nepali Congress President, as Prime Minister. Deuba was sworn in as Prime Minister on 13 July, 2021. Earlier, on 21 May, President Bidya Devi Bhandari, on the recommendation of the then Prime Minister K.P. Sharma Oli had dissolved the Parliament and announced mid-term polls on 12 and 19 November, 2021.
Nepal had plunged into political turmoil twice after Oli's contentious recommendation to dissolve the Parliament on 20 December, 2020 and again on 21 May, 2021. In February, Nepal's Supreme Court intervened and ordered the reinstatement of the Parliament that was dissolved on 20 December, 2020. This came as a setback to Oli who was already preparing for snap polls. Nepal's highest court reinstated the Parliament for a second time in just five months.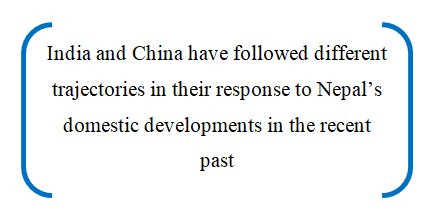 The political crisis in Nepal has created a measure of uncertainty in the Indian and Chinese policies towards Nepal. The two countries have followed different trajectories in their response to Nepal's domestic developments in the recent past. China, despite their claim of non-interference in domestic affairs have shown a keen interest in Nepal's political crisis, whereas India, despite having been accused of interfering in Nepal's internal matters in the past, has decided to step back and wait for the situation to unfold.
In December last year, Hou Yanqi, Chinese Ambassador to Nepal met with Nepalese President, party chair Pushpa Kamal Dahal and Standing Committee member, Barsha Man Pun after dissolution of the House of Representatives. Earlier in May and July, she had held a series of meetings with top party leaders including Oli and Dahal in a failed attempt to reunite the Nepal Communist Party (NCP).
On 27 December 2020, China had sent Guo Yezhou, a vice-minister of the International Department of the Chinese Communist Party to Kathmandu to take stock of the political situation. The visit came at a time when China was concerned over the political stability in Nepal and the unity of the NCP. China was also concerned that the political crisis in Nepal could threaten to reverse the gains made after President Xi Jinping's visit in October 2019 as it was instrumental in taking China-Nepal bilateral relations to a new height.
The Guo-led delegation had met with President Bhandari, Prime Minister Oli, Nepali Congress President Deuba and chair of the other faction of the NCP, Pushpa Kamal Dahal. The Chinese delegation reportedly wanted to explore the possibility of a reunion between the two warring factions of the NCP, the reasons behind its spilt, its impact on Nepal-China relations and the possible road ahead for the future political course in Nepal. The Chinese team had to return empty-handed after the NCP factions failed to bury the hatchet.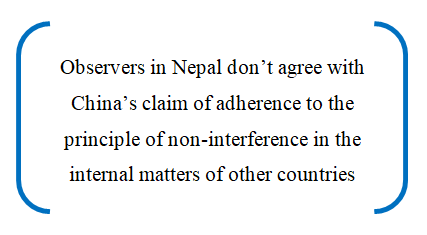 While China sent a high-level delegation to Nepal to persuade the rival factions of the NCP to stay together, India stated that Nepal's political developments are its internal matter and it is for the country to deal with them under its domestic framework and democratic processes.
On 6 February 2021, the Chinese Foreign Ministry issued a press statement in the context of a telephonic conversation between Nepalese Foreign Minister, Pradeep Gyawali and Chinese Foreign Minister, Wang Yi. According to the statement, Wang Yi said that China adheres to the principle of non-interference in the internal affairs of other countries and respects the path towards development chosen by the people of Nepal. "As a friendly neighbour, China hopes that all parties and factions in Nepal will bear in mind the fundamental and long-term interests of the country and its people, seek common ground while shelving differences, and maintain unity and stability, so as to create favourable conditions and environment for its own development and prosperity," the statement added.
Although Wang Yi claims China's adherence to the principle of non-interference in the internal matters of other countries, observers in Nepal don't agree with it. Political analyst Uddhab Pyakurel criticised China for meddling in Nepal's internal matter. "No matter what the Chinese side say to justify their visit to Nepal, we all know that they are trying to interfere in Nepal's internal affairs. For this, NCP leaders and Nepali media, which helped build the narrative that Chinese leaders had played a role in unifying the erstwhile CPN-UML and CPN-Maoist Centre, are responsible," he said. He was concerned that Chinese activities would turn Nepal into a strategic playground in its tiff with India and other western powers including the United States of America.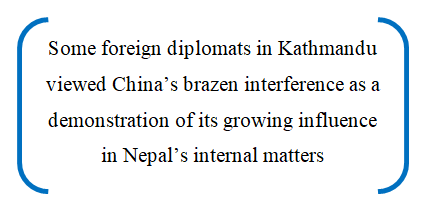 Analysing China's recent actions, Political scientist, Dev Raj Dahal stated that China is using its soft power by sending CPC leaders to influence Nepal. He added that China was alarmed about the security and stability in Nepal as Nepal shares its border with the Tibetan Autonomous region, 'the geopolitical loophole of China'. He said that China is concerned about stability in Nepal also because it is interested in doing business with India's vast market through Nepal. This would be possible only if Nepal remains politically stable.
China's meddling in Nepal's domestic politics has drawn international attention. Some foreign diplomats in Kathmandu viewed China's brazen interference as a demonstration of its growing influence in Nepal's internal matters while India's decision to steer clear has been appreciated by former diplomats. "India, which is usually the whipping boy of their politics is correctly staying out of the picture, while China attempts to involve itself in their politics," said Manjeev Singh Puri, former Indian Ambassador to Nepal.
There could be several reasons why India preferred to keep a low profile and refused to take sides in a political tug of war between different parties in Nepal. In the past, India has been seen as trying to meddle in Nepalese politics which hasn't been received well by people in Nepal.
To reiterate, China had invested in buttressing the Oli government which has now been ousted. In the short term, recent developments in Nepal could result in a limited setback for the Chinese policy towards Nepal. However, these developments have not fundamentally undermined China's position in Nepal. China's ambitious Belt and Road Initiative (BRI) and its ongoing and proposed involvement in hard infrastructures, including highways, bridges, airports, hydroelectric projects have significantly helped China entrench its presence in Nepal. China has also built up its soft and sharp power in Nepal in recent years. The latest change in government is unlikely to have a major impact on China's position in Nepal.
India's present policy of non-interference with regard to Nepal's political crisis is serving India well. The change in government will help India to some extent in developing its equities in Nepal as it has been given credit for not interfering in Nepal's domestic affairs. Durable political stability in Nepal augurs well for India whereas, instability will only pave way for inimical external influences. India must encourage the strengthening of a people-driven polity, invest in reinforcing its considerable linkages and synergies in Nepal and work towards improving its image that has been hampered in recent years. It is important for India to avoid being perceived as partisan and adopt the strategy of detached pragmatism rather than proactive involvement.