Aadil Sud, Research Intern, ICS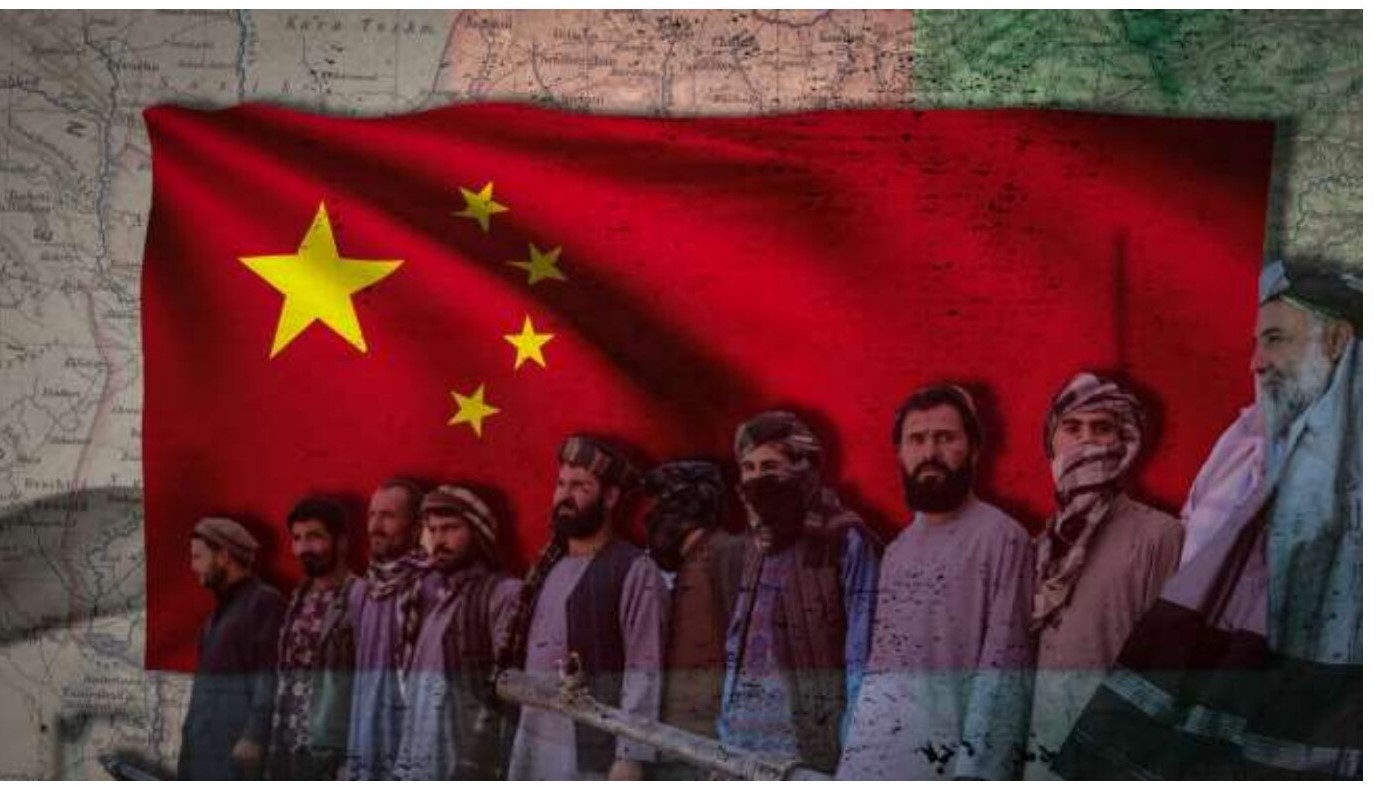 Afghanistan has long been a country on the periphery of Chinese policy due to its inherent instabilities, the presence of foreign coalition forces and the influence of the West acting as a buffer against overt Chinese involvement. Well aware of Afghanistan's reputation as a 'graveyard of empires', China has refrained from serious involvement with the country, supporting the Afghan-led, Afghan-owned policy propagated by the West instead. However, with the imminent withdrawal of coalition troops, China has found a security and diplomatic void it is suited to fill, adding to its pre-existing investments in the country.

Since 2014, the National Unity Government has lobbied China for their assistance on issues of security, economic and regional integration. The prospects of peace in Afghanistan has since motivated China to ramp up its commitment to the nation. China's Central Asian policy has the possibility of replication here, with economic commitments under the Belt and Road Initiative (BRI), military aid through arms sales and training, and reciprocal security assistance – with China aiding in dealing with the Taliban, and the Afghani government working to mitigate cross-border Islamist influence in Xinjiang, helping them combat their 'three evils' of terrorism, separatism and extremism. These commitments have led many to question the future role of China in Afghanistan's post-coalition future. Namely, can China effectively integrate their relations with Afghanistan, in line with their own goals in the region?
Economic Integration with Afghanistan
Over the past few years, China has initiated numerous projects in Afghanistan's key sectors – mining, transportation infrastructure, and agriculture. While the country is seen as geographically strategic, the BRI initially bypassed it. However, since 2016, both countries have jointly promoted this cooperation. Afghanistan acts as a link between China and Southern, Central and Western Asia, with the countries being connected in north by the Sino-Afghan special railway transportation project and the Five Nations Railway Project, which aim to connect to southern Afghanistan via the China–Pakistan Economic Corridor (CPEC). Afghanistan is also home to massive resource deposits, such as rare earth metals and lithium, which have the capacity to reduce the dependence of Afghanistan on foreign aid if exploited properly.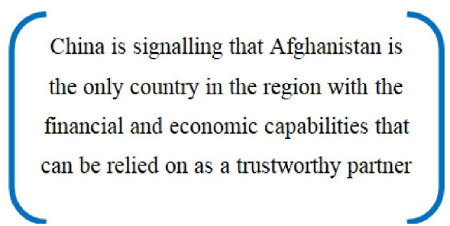 China, Afghanistan's largest foreign investor, is using this position effectively to increase their influence in the region. According to Arif Sahar, an Afghan security expert based in London, these resources can only be effectively exploited by close neighbours, because of geopolitics and logistics. Aware that their manufacturing sector would benefit massively from this access to resources, 'China is signalling that it is the only country in the region with the financial and economic capabilities that can be relied on as a trustworthy partner'.
This takes on more weight due to China's interactions with Afghanistan's neighbours. While China and Pakistan are perennial, all-weather allies, and remain economically and politically integrated, the recent push in Iran has provided Afghanistan further incentive to remain aligned with China, that of coastal access through Iran. Pakistan has consistently blocked Afghanistan from using their territory; and being aligned with Iran through China and the BRI remains a position that the Afghanistan government could be willing to accept.
Political-Strategic Integration: Indifference to Engagement
Over the years, China's regional policy has gone from a calculated indifference to active engagement, with China realising the best chance to achieve their goals is a strong, stable Afghanistan. As such, China has pushed to reconcile with, and build contacts with both the Taliban and the Afghan government. It also strives for greater cooperation between Pakistan and Afghanistan, by pushing for greater opportunities for trade and investment.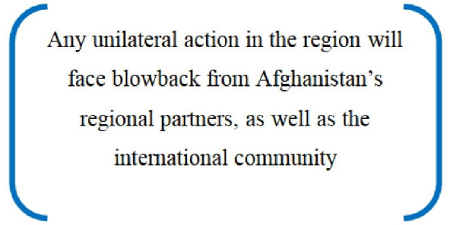 Chinese motivations in Afghanistan vary. They remain wary of the country being used as a launching ground for Uyghur separatism (such as the East Turkestan Independence Movement), which it often claims could radicalise Uyghurs in Xinjiang province. It also aims to portray itself as an important regional and global player, with the potential to solve one of the world's longest running insurgencies . China has hence embarked on numerous policies aimed at achieving these. It has portrayed itself as a point of contact between the government and the Taliban, acting as a facilitator in the Afghan peace process. It had also initiated a joint training operation with India for Afghan diplomats, as a gesture of goodwill. However, the future of this collaboration remains to be seen, due to renewed tensions with India following the Galwan incident. It has also aided Afghanistan militarily, helping build the military mountain brigade in the Wakhan corridor, with the primary goal of preventing infiltration by the Islamic State into China.
Afghanistan also hopes to use China as leverage against Pakistan. Quetta is widely believed to be the base of the Afghanistan Taliban leadership, and Pakistan has historically held some sway over the Taliban. Hamid Karzai was quoted as saying that 'China is a close and strategic friend of Pakistan, and Chinese words with the Pakistani government carry weight… we believe that China can use that asset in a way that brings good relations between us and Pakistan and also leads to peace in Afghanistan', laying the groundwork for cooperation between the three countries. Preferring multilateralism over unilateralism in the region, China has also been examining using institutions like the UN to ensure regional peace and stability. Rightly so, any unilateral action in the region will face blowback from Afghanistan's regional partners, as well as the international community.
The Way Forward
Over the past few years, China has steadily increased its involvement in Afghanistan, taking the form of military, economic and diplomatic commitments. However, these acts have not been without pushback, with China's policy perceptions as giving pre-eminence to their own geopolitical and security concerns being the concern of many in the international community. As such, while the Afghani government views China as an important partner in Afghani stability, their impact so far has remained limited.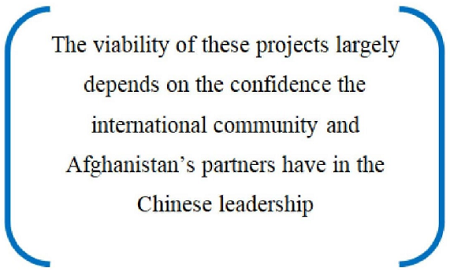 One last factor to consider is the influence of Russia. While not one to disrupt the coalition withdrawal, Russia under Putin has been steadily increasing its reputation as a great power with an international reach, as seen also in Libya and Syria. Additionally, Afghanistan is part of the erstwhile Russian sphere of influence, and any attempts by foreign powers to increase their influence in these regions have often been met by opposition. Some recent examples stem from accusations of Russian support to the Taliban, and allegations of state-sponsored bounties on US soldiers.
The force withdrawal provides China with an immense opportunity to increase their influence in the region – unilaterally through the BRI and its associated investments, or multilaterally through organisations like the UN. However, the viability of these projects largely depends on the confidence the international community and Afghanistan's partners have in the Chinese leadership, which has taken a hit in the aftermath of the pandemic and China's belligerent 'Wolf Warrior' diplomacy. China's engagement in Afghanistan had started to take shape before this crisis, but the efficacy of such policies now remains to be seen, especially with increasing diplomatic challenges, such as with the USA, UK, Canada, and India. Without the support of the countries involved with Afghanistan, the expansion of Chinese policy remains a distant dream, which shall face numerous hurdles in implementation.