Hemant Adlakha, Honorary Fellow, ICS and Associate Professor, JNU
On 6 October, 2020, the world's attention was focused on the rare in-person Quad foreign ministers' meet in Tokyo. But some Chinese commentators were closely watching India's External Affairs Minister Subrahmanyam Jaishankar and New Delhi. Why?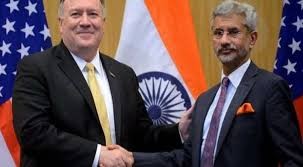 Pompeo with Jaishankar in Tokyo
Photo: wionews.com
As was expected, not "Japan's 'Trump Whisperer'," the Foreign Minister Toshitmitsu Motegi, but the US Secretary of State Mike Pompeo called the shots in Tokyo during the Quad second ministerial talks. But some Chinese observers, as also the Chinese Foreign Ministry mandarins, had their eyes and ears set on the Indian EAM Jaishankar and on the outcome of his separate meeting with Pompeo. For as the US presidential election voting day draws closer, Pompeo's Mission Tokyo was to use the Quadrilateral Dialogue – President Trump's key to realizing the Indo-Pacific strategy – to remind its allies in the region to step up putting pressure on Beijing, some Chinese commentaries observed days before the curtain went up for the Quad foreign ministers' talks. "The [Tokyo] meeting is set to be one of the highest-profile diplomatic gatherings for the Trump administration before the US presidential election, where policy toward Beijing has become a major campaign issue," The Washington Post had stated just before the Quad meeting in Tokyo.
However, some Western strategic and security affairs critics of Trump's foreign policy have ridiculed the President by saying he has been brandishing the term "Indo Pacific" as the US "latest toy" to checkmate a rapidly rising China. They are also quick in pointing out "Indo Pacific" is the alternative grouping Trump has found to replace his predecessor Obama's TPP in the Asia Pacific region in which China has been excluded. While not quite subscribing to the views of the critics of "Indo Pacific" strategy, at least one Chinese analyst perceives "Indo Pacific" to be a "brilliant concept but difficult to implement."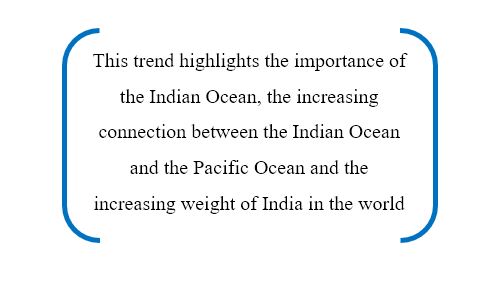 Interestingly, in Beijing's view, India's recent change in stance on QUAD from being a "geographical concept" to "good mechanism" in Asia Pacific has provided enough dynamism to the US "Indo Pacific" concept to revive up its China containment policy. Quite in tune with what at least some scholars in China have been telling us, a US commentator recently wrote of both Indo Pacific concept and Quad security dialogue: "QUAD was served up to spice up (the Indo Pacific) alphabet soup, as a new strategy to slow, if not thwart, China's rise as the predominant economic powerhouse in Asia Pacific."
For example, Zhang Jie, a senior researcher at the China Academy of Social Sciences (CASS) in Beijing strongly believes the transition from "Asia-Pacific" to "Indo-Pacific" is a prominent feature of Quadrilateral Security Mechanism dialogue. This trend highlights the importance of the Indian Ocean, the increasing connection between the Indian Ocean and the Pacific Ocean and the increasing weight of India in the world, Zhang recently observed in his widely read article in Guangming Daily – China's most influential newspaper among the urban intelligentsia.
This explains, in spite of the fact that Pompeo had told reporters before leaving for Tokyo the outcome of the talks will not be made public until after he gets a nod from the POTUS on his return to Washington, why China's strategic affairs community was closely watching the Indian EAM Dr. Jaishankar's tête-à-tête with Pompeo during the QUAD Tokyo Forum. Primarily due to India making a significant shift during past six months from what Prime Minister Modi had asserted at the Shangri La Security Dialogue in 2018 that "Indo-Pacific is not a strategy or a club of limited members" to New Delhi's reticence today on the militarization of Quad.
Highlighting the fact, an Indian national English language daily, The Hindu in its editorial on the eve of the Tokyo talks cited the country's powerful Chief of Defense Staff (CDS) – believed to be close to PM Modi – as having stated "India believes the Quad would be a good mechanism to ensure Freedom of Navigation Operations in the Indian Ocean and surrounding oceans including the Indo Pacific."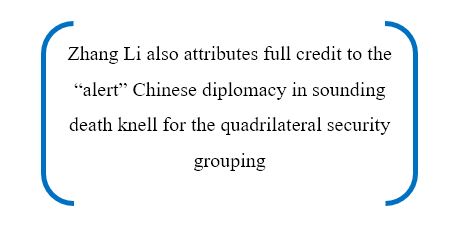 "Quad" – Background and Past Trajectory
While a handful of commentators first explained the origin of the US, Japan, India and Australia quadrilateral grouping at the initiative of Prime Minister Abe at the ASEAN Regional Forum in Manila in May 2007, when Abe advocated the "Broader East Asia" or "Greater Asia" concept. They also pointed out the US multilateral security interaction was launched following a series of bilateral and trilateral meetings between and among the present-day Quad four countries. But due to several uncertainties then prevailing both in some of the Quad countries and also in the world, the "Greater Asia" concept along with the US, Japan, India and Australia security grouping – also dubbed by some in Beijing as the "Asian NATO," failed to see the light of day.
In the words of widely respected Professor Zhang Li of Academy of Ocean of China (AOC), some key factors which led to premature death of the so-called Quad or the Asian NATO were, namely Abe's sudden resignation on health grounds, the refusal of the then newly elected Australian Prime Minister Kevin Rudd of the Labour Party to join any multilateral grouping targeting China and the impending global financial crisis. Besides, Zhang Li also attributes full credit to the "alert" Chinese diplomacy in sounding death knell for the quadrilateral security grouping when Rudd visited Beijing soon after he assumed the post of Australian Prime Minister in late 2007 and unilaterally declared withdrawal of Australia from the quadrilateral security dialogue.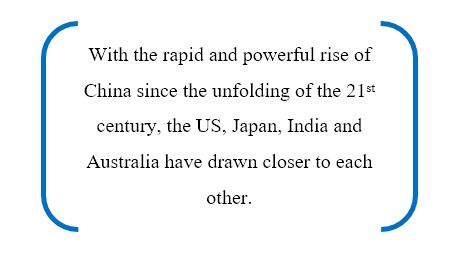 From Quad to Quad 2.0 – India a Key Factor since 2006
Irrespective of whatever happened to the fate of Quad 1.0 and contrary to what is generally believed both in India and among strategic affairs community in the US, Japan and Australia, Beijing has been closely monitoring India's growing importance in quadrilateral security dialogue for over a decade and a half now. According to Professor Cu Caiyun of Institute of Asia Pacific and Global Strategic Research at the Beijing's prestigious China Academy of Social Sciences (CASS), with the rapid and powerful rise of China since the unfolding of the 21st century, the US, Japan, India and Australia have drawn closer to each other.
"Held together by the outdated Cold War mentality of yesteryears, the four nations have been sticking together under the so-called bogey of common values and have formed groupings such as Democratic Alliance or a quasi-alliance with a singular aim to carry out their China containment design," Professor Caiyun recently wrote in a widely influential research paper. Interestingly, Caiyun's paper, entitled "A Rising China and Formation of Four Nation Democratic Alliance comprising of the US, Japan, Australia and India" was not published in the CASS journal, but it appeared in the flagship bimonthly Global Review of the Shanghai Institute of International Studies (SIIS) – both SIIS and GR enjoy a good rapport with the central authorities in Beijing.
Quad 2.0 – "Beggar's Club" and Empty Rhetoric
Dismissive of President Trump's initial desperate efforts to revive Quadrilateral Security Mechanism three years ago, scholars in China had called Trump's "anti-China" move as "a meeting of four poor beggars" in the Indo-Pacific region. Long Kaifeng, a former PLA navy senior officer who now writes syndicated columns on military affairs, points out several inherent contradictions in Quad's conceptual framework. First, the "negative" premise on which the concept is conceived, that is to treat China as an antithesis or an imaginary enemy. Second, the US alone does not have the wherewithal to carry out its China containment policy. This is because within Quad, it is only the US which thinks it is in its national interest to implement China containment policy. Third, closely linked to the second factor above, it is true that Japan, Australia and India (notwithstanding ongoing border tension between India and China), given their respective economic compulsions, are least willing to or prepared for directly confronting China.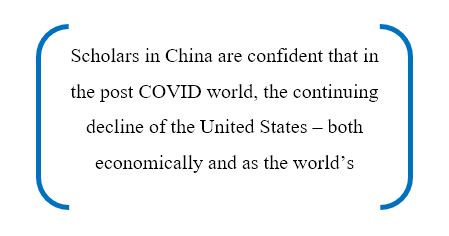 Perhaps aware of what China's Foreign Minister Wang Yi told Japan's national broadcaster NHK last week (the NHK reported a possibility that Wang Yi may also visit Tokyo this month): Quad is a "headline-grabbing idea," Professor Wang Zheng of Dr. Sun Yat-sen University in Canton, unlike most other Chinese analysts, scornfully dismissed the Quad grouping as "empty rhetoric." With sarcasm in tone, Wang Zheng recently wrote: "Let the four countries first come up with their top leaders' summit meeting or set up an institutional arrangement."
Finally, scholars in China are confident that in the post COVID world, the continuing decline of the United States – both economically and as the world's dominant power – is inexorable. Hence, Beijing is in no doubt, Washington's China containment policy is in need of New Wine in a New Bottle. Meanwhile, the Indian EAM Jaishankar's remarks after the Quad talks in Tokyo that "it's a matter of satisfaction that Indo-Pacific concept has gained increasingly wider acceptance" might have only further strengthened what the Chinese scholars have maintained all these years. Therefore, Beijing was least amused in what was one of India's several "independent" TV news channels' lead headlines hours before the Tokyo talks: "Quad FMs Meet in Tokyo as India Looks to Unite Allies against Aggressive China." Undeterred, Beijing continues to closely watch which way Quad headwinds will be blowing in the Indian capital!
Originally published as Is QUAD the US "Latest Toy" to Thwart China's Growth? by Nepal Institute of International Cooperation and Engagement (NIICE), Kathmandu on 6 October, 2020.