Dr. Veda Vaidyanathan, Visiting Research Associate, ICS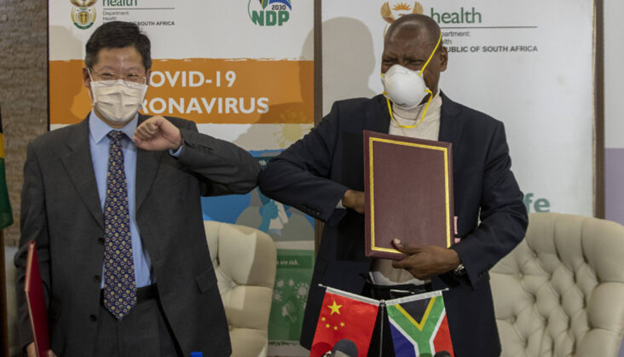 Source: AP Photo
At the margins of the third session of the 13th National People's Congress, as Foreign Minister Wang Yi fielded questions from the press, China's role helping other countries fight COVID-19 was brought up and China's assistance to Africa, in particular, found considerable mention. As is usually the case, high doses of morality and altruism accompanied stories of China's health cooperation in the region. In Wang Yi's words
"China is always willing and ready to help others. When our friends are in distress, we never sit by and do nothing. A case in point is our assistance to Africa during the Ebola epidemic. While some countries evacuated their personnel from the affected areas, China rushed to Africa's aid despite risks of infection, sending in medical teams and badly needed supplies and fighting alongside our African brothers and sisters until victory was declared."
However, this does not take away from China's multifaceted contribution to the African region in its fight against COVID-19. Actors including the state, provincial governments, companies and entrepreneurs have been contributing to different countries in varied forms. The Chinese government sent medical expert teams to Africa's 5 sub regions while the resident medical teams based in 45 African countries have also been very active and have held over 400 training sessions for medical workers. On the 18th of March, the first teleconference of experts was held between China and countries in Africa. Over 300 people including representatives from over 23 African countries, the African CDC, officials from the WHO posted in the region attended the meeting with experts from the Chinese Academy of Sciences, the Chinese CDC, the first hospital of Peking University. Since then over 30 video conferences have been held. China has also been upgrading health infrastructure, like a $500,000 donation to the Wilkins Infectious Diseases Hospital, the main Covid-19 centre in Harare, Zimbabwe. Provincial actors like Chongqing municipal government sent supplies along with a delegation to Algeria and a team of 12 medical experts from Hunan province brought medical supplies to Zimbabwe.

Chinese media houses have also been critical to its 'Corona diplomacy' in the continent. A website hosted by China Daily called "Fighting COVID-19 the Chinese Way" is used to share facts, updates and stories about managing the virus. Another platform called "COVID-19 Frontline" by CGTN is an online live show for medical workers and officials to share information. One of the shows hosted was titled "Fight as one: Exchange of COVID-19 treatment experiences between China and Zambia" where Doctors from the First Affiliated Hospital of Xi'an Jiaotong University, who served on the frontlines in Wuhan shared their experiences with their Zambian counterparts. Similarly CGTN invited experts from Jiangsu Province who worked in Wuhan to share their experiences with colleagues in Tanzania. Links to such platforms have been advertised in the websites of Chinese missions in various African countries. In addition to the Chinese State, Alibaba's Jack Ma and the Alibaba foundation have also contributed to the African fight against the pandemic by providing thousands of detection kits, PPEs, face shields, infrared thermometers, extraction kits, surgical masks, swabs and gloves among others. Other Chinese firms active in the region have also been donating to local charities.
However, Chinese assistance during the pandemic has not always been received positively in the region. There is an increase in xenophobia and this has resulted in several unpleasant exchanges. One of first reports that came out in this regard saw several Africans in Guangzhou being discriminated against, evicted from their homes and forced into quarantine. This attracted an unprecedented and strong response from a group of African ambassadors in Beijing who "immediately demanded the cessation of forceful testing, quarantine and other inhuman treatments meted out to Africans". A few weeks later news broke that three Chinese nationals were murdered in Lusaka. According to the Zambian police, the suspects killed the victims who were working in a Chinese clothing company and set their warehouse on fire. While many commentators have discussed how deep-rooted racism is a longstanding issue in China-Africa relations, officials like Zambia's ambassador to China doesn't seem to be too perturbed; stressing that "Sometimes, our people or your people make mistakes out of anxiety. It is not good to amplify these small negative points. We should pursue cooperation under a bigger picture".
Nonetheless, one of the major expectations from China, beyond knowledge sharing and supply of medical equipment, is to forgive loans and ease debt repayments. As several countries in the continent are struggling with weak health systems, rising domestic dissatisfaction due to unemployment and cessation of economic activity, they are not in a position to make repayments on debt. Considering that China has been the largest trading partner of the region ($208 billion in 2019), one of the largest investors ($110 billion stock) and holds a fifth of Africa's sovereign debt, this takes centre stage. A case in point is Kenya: by March 2020, Kenya's total national debt reached an all-time high of Sh6 trillion ($57 billion), very close to its 70 per cent national debt ceiling of Sh9 trillion ($90 billion), of this its debt to China stood at Sh660 billion ($6.6 million). While China has supported the call of the World Bank and IMF and will join the G20 nations to forgo repayments, officials have stated that they will also conduct bilateral meetings to discuss further debt relief. It is very likely that China will forgive significant African debt, not only because there is a precedent, but also due to the fact that in the post pandemic world, where investigations looking into the origins of the virus are underway, African support will be critical to China.

Similarly, Africa could also gain tremendously from China's close engagement. As global supply chains are hard hit, intra Africa trade could increase, kick starting the African Continental Free Trade Area, and major economies in the region including Kenya, Nigeria and South Africa could start supplying to other countries and Chinese cooperation in this regard would be vital. There have already been several instances of states turning to domestic production to meet demand. The Ugandan President for instance, launched two production lines at a Chinese firm in Uganda, Lida packaging Products Ltd, that employs over 300 people and has the capacity to produce 560,000 masks a day. Similarly, the tech, digital and e-commerce spaces that have been growing rapidly – including coming up with home grown solutions to problems posed by the pandemic – stands to benefit from close cooperation with Chinese actors. Like many other geopolitical equations, China-Africa relations in the 'new normal' will also undergo a reset. A narrative is already building around Africa's unwavering loyalty to China, especially during the pandemic. For instance, the Chinese ambassador to Zambia, Li Jie, stated that when the pandemic broke out in China, Zambia was one of the first countries to call and extend support and therefore Beijing will provide substantial support to Lusaka in this trying time. It would be prudent therefore, that other actors engaged in the region, like India, pay close attention to the myriad forms Chinese assistance to the continent is taking and how they are received, because it will not only influence Africa's fight against the pandemic but will also help shape a narrative that projects China as a 'voice of reason and judgement' in a landscape that is seemingly devoid of global health leadership.