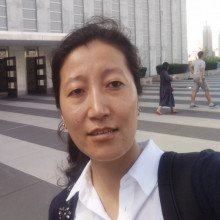 Dr Tshering Chonzom Bhutia was a Visiting Associate Fellow at the Institute of Chinese Studies, Delhi. She holds a PhD from the Centre for East Asian Studies, School of International Studies, Jawaharlal Nehru University, India. Her thesis was titled 'Applying Negotiation Theory to the Sino-Tibetan Talks, 1979-2006'. She has just completed a significant research project comparing the Indian and Chinese government's ethnic minority/nationalities policies.
She was part of the prestigious International Visitor Leadership Programme (IVLP) sponsored by the United States Department of State in July 2017. Earlier in June 2017, she was at the Southwest University for Nationalities, Chengdu, Sichuan, China (within the Department of Tibetan Studies) on a one-month teaching fellowship as a 'foreign expert'. In 2007, she participated in a month-long diploma programme supported by the Ministry of National Defense of the Republic of Taiwan.
She has a rich work experience including research, editing and programme coordination. Her last stint as Programme Coordinator for the Heinrich Böll Foundation's programme on 'Democracy and Conflict' in India lasted for about four and a half years. Before that, she was Programme Coordinator, Assistant Editor and Assistant Fellow at the Indian Institute of Dalit Studies in its Publications and Dissemination Unit. Her first work assignment was with the Institute of Peace and Conflict Studies as a Research Officer in charge of its China Desk.