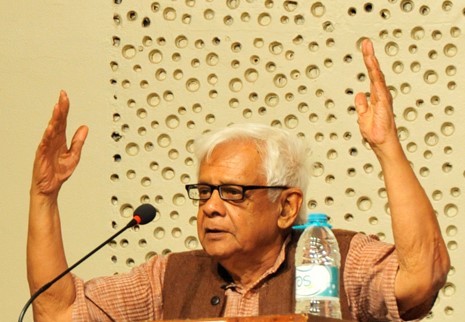 Govind Purushottam Deshpande (1938-2013) retired as Professor of Chinese Studies at the School of International Studies, Jawaharlal Nehru University, New Delhi, where he taught for thirty-five years. A doyen of China Studies in India, GPD, as he was popularly known, was one of the founding members of the Institute of Chinese Studies and also served as its Director. He was editor of the ICS journal, China Report: A Journal of East Asian Studies. In addition to writing multiple articles in China Report and International Studies, he also ran a regular column in Economic and Political Weekly (EPW) titled, "Of Life, Letters and Politics" for three decades. You can access GPD's writings in the China Report here.
A prolific writer, playwright, and critic in Marathi and English, GPD was the author of The World of Ideas in Modern Marathi: Phule, Vinoba, Savarkar (Tulika, 2009), Talking the Political Culturally and Other Essays (Thema, 2009) and Dialectics of Defeat: The Problems of Culture in Postcolonial India (Seagull, 2006). His best-known plays include Uddhwasta Dharmashala (A Man in Dark Times), Andhar Yatra (Passage to Darkness), Chanakya Vishnugupta, Raaste (Roads), and Satyashodhak, the last, a play on the life and times of Jyotirao Phule. He received the Maharashtra State Government Award for his contributions as a playwright on three occasions and was also a recipient of the Sangeet Natak Akademi Award (1997), the Kala Gaurava Puruskar (2005) and the Jeevan Gaurava Puraskar for Literature (2010). GPD also co-authored the book, Crossing a Bridge of Dreams: 50 years of India and China with Alka Acharya.
The GP Deshpande Award has been instituted by the ICS and his immediate family in his memory. It comprises a prize money of Rs.25,000/-, and is awarded to the best paper presented by a young scholar under the age of 40 at the annual All India Conference of East Asian Studies.
Announcement
The 2022 GP Deshpande Award has been awarded to Ms. Nidhi Maini for her paper titled, "Shufu no Tomo: Dressing Up the Interwar Japanese Women" which was presented at the 1st All India Conference of East Asian Studies (AICEAS) organized virtually by the Institute of Chinese Studies, New Delhi and Department of International Relations & Governance Studies, Shiv Nadar University, Delhi NCR, from 21-22 March 2022.
Ms. Maini is a doctoral candidate at the Department of East Asian Studies, Faculty of Social Sciences, University of Delhi, Delhi.