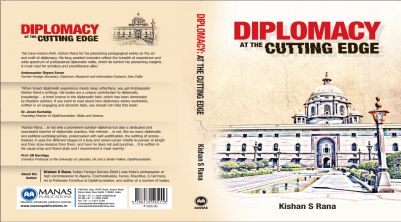 This memoir spans Kishan S Rana's 35-years in the Indian Foreign Service, commencing with recruitment by the Union Public Service Commission and start of training in May in 1960 and, to the end of his Service career in July 1995.
Kishan S Rana learnt Chinese as his compulsory foreign language and spent two years (1961-63) at an institute that was part of Hong Kong University, and thereafter was assigned to the Indian Embassy at Beijing, where he served from 1963 to 1965, working under Jagat Mehta. He then was reassigned to the Ministry of External Affairs and served as an under secretary (desk officer) in the East Asia Division. He then went as a first secretary to the Indian Permanent Mission at Geneva for three years, up to mid-1970, and was then re-assigned to the Indian Embassy at Beijing, again for a two-year term, as the deputy to Charge d'Affaires Brajesh C Mishra. He then went to MEA for three years, working as a deputy secretary and then as a director in the East Asia Division, up to October 1973, and thereafter for almost two years as Director (North), dealing with Nepal, Bhutan and Sikkim affairs. In this manner almost 10 of his first 15 years in the Service were spent on China affairs.
He then was named Ambassador to Algeria, serving there from mid-1975 to the end of 1979. His next assignment was as Ambassador to Czechoslovakia, which was cut short in August 1981, when he was appointed a joint secretary in the Prime Minister's Office, to serve on Indira Gandhi's staff. A year later he was reassigned to the Ministry of External Affairs, where he served as a joint secretary heading personnel administration, from October 1982 to the end of 1983. Kishan S Rana subsequent assignments were as High Commissioner to Kenya (1984-86), Consul General in San Francisco (1986-89), High Commissioner to Mauritius (1989-92), and Ambassador to Germany (1982-85).
The book is a narrative of this varied professional career, with 12 chapters that cover the different jobs handled. It offers insight on the practice of diplomacy in relation to its political, economic, cultural, educational, public, and other dimensions. The book's final two chapters cover the author's experience with pursuing reform in the Ministry of External Affairs, during his Service years and thereafter, and the lessons he has drawn in relation to his post-1995 career as a teacher in diplomatic studies.