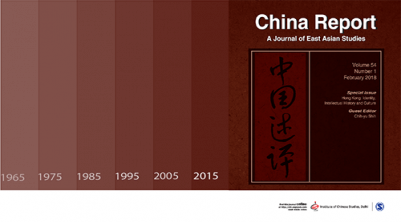 An Introductory Note for the Articles
The article by Fengqi Qian and Guo-Qiang Liu looks at the transformation in the way the Chinese War of Resistance against Japan in World War II is remembered in China. It examines how in this context the narrative of victimization has been strengthened, and how it is part of the new nationalism that is linked with and underpins 'the rise of China' in today's world. Specifically, it focuses on the Nanjing Massacre of 1937 and on the Nanjing Massacre Memorial and the changes this has undergone in recent years.
Truong Quang Hoan, Dong Van Chung and Nguyen Huy Hoang, in their article on Taiwan-ASEAN trade relations, look at the nature and limitations of the trade in value added goods between the two entities. Using a comparison of their trade in value added with the other Northeast Asian economies of Japan, Korea and China, the authors conclude that one significant reason why the Taiwan-ASEAN trade relationship appears to be stagnating or falling behind is because the two sides do not have a formal economic cooperation agreement. They suggest ways in which both the agreement and the general relationship might be taken forward.
Vikash Chandra examines in detail the main features and the evolution of China's counterterrorism strategy at the United Nations. He argues that on this front China's position resembles that of a status quoist rather than a revisionist power.
Hon-shiang Lau examines two authoritative geographical references from the Ming and Qing eras, along with a Ming-era map. By analyzing the structure of the two texts, he shows that these sources clearly did not consider Tibet to be a part of the Ming empire. This casts doubt on the much-repeated claim that Tibet had been a part of China 'since antiquity'.
Eminent geo-scientist Shailesh Nayak comments on the advantages of, and necessity for, cooperation between India and China for scientific and technological advancement. Seeing opportunities for this in diverse spheres such as climate change, epidemic disease control, energy efficiency, clean coal technology, marine pollution, etc., he argues that enhanced cooperation on this front can be beneficial to both countries even if there remain political disagreements between them.
I Articles
---
Remembrance of the Nanjing Massacre in the Globalised Era: The Memory of Victimisation, Emotions and Rise of China
Fengqi Qian, Guo-Qiang Liu
Abstract
Taiwan-ASEAN Trade Relations: Trade Structure and Trade in Value Added
Truong Quang Hoan, Dong Van Chung, Nguyen Huy Hoang
Abstract
Rising Powers and International Organisations: The Case of China's Counter-terrorism Strategy at the United Nations
Vikash Chandra
Abstract
II Comment
---
Cooperation with China to Advance Scientific and Technological Knowledge
Shailesh Nayak
Abstract
III Document Analysis
---
The Political Status of Tibet during the Ming Dynasty: An Analysis of Some Historical Evidence
Hong-Shiang Lau
Abstract
IV Book Reviews
---