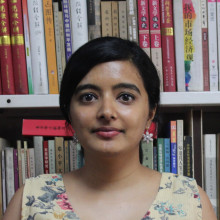 Veda Vaidyanathan is a Visiting Associate Fellow at the Institute of Chinese Studies, New Delhi and is currently based in New York. She completed her Ph.D. from the Centre for African Studies at the University of Mumbai on the Resource Diplomacy Strategies of India and China in Africa. She was initially a doctoral fellow of the Indian Council of Social Science Research and in 2014 received the Institute of Chinese Studies-Harvard Yenching Institute (ICS-HYI) China-India studies fellowship. From 2015-16 she was a senior visiting fellow at the Centre for African Studies, School of International Studies, Peking University, China and was a visiting fellow at the Harvard-Yenching Institute in Harvard University the following year.
She joined the ICS in 2018 and designed projects examining China-Africa engagement under the Institute's 'China in the World' Research programme. Her first project examining Chinese Infrastructure Development in Tanzania and Kenya was completed successfully with a multi-cultural team and the resultant monograph was published in November 2019. Her second project under this series titled 'China-Zambia Economic Relations: Perspectives from the Agricultural Sector' brought to the fore voices of Zambian, Indian and Chinese experts and the monograph was completed in March 2021.
She is currently leading a team of Zimbabwean scholars on a project analyzing Chinese investments in Zimbabwean financial and mining sectors. Her paper titled 'Reimagining Engagement and Realigning Priorities: How India and China are Informing the African Growth Story' won the World Society Foundation Award in Switzerland in April 2019. Veda has conducted extensive fieldwork interviewing various stakeholders in India, China, Kenya, Tanzania, Zambia, Ethiopia, USA and the UK.