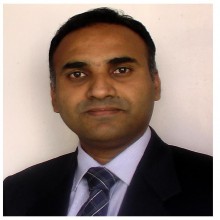 Nanda Kumar Janardhanan specialises on energy and climate policy. The areas of his work include energy policy, climate negotiation, low carbon development, energy geopolitics, nuclear and renewable energy.
Nanda Kumar is a teaching faculty with the Energy Studies Programme of School of International Studies of Jawaharlal Nehru University. As an External Expert (Fellow & Regional Coordinator), he has been guiding the research of Institute for Global Environmental Strategies (IGES, Japan) on energy in South Asia. The positions he held previously with IGES include 'Fellow-Climate and Energy (External Expert)', and 'Energy Policy Researcher'. Prior to his affiliation with IGES, Nanda Kumar worked as Associate Project Manager-Nuclear Energy (GlobalData, India), Senior Energy Analyst (GlobalData), Visiting Fellow (Japan Institute of International Affairs, Tokyo), Research Assistant (Institute for Defence Studies and Analyses, Delhi), and Research Associate (Indian Institute of Public Administration, Delhi).
Nanda Kumar also worked as Fellow with the MIT 'Climate CoLab' (Massachusetts Institute of Technology, US, 2014-2015), Lecturing faculty with the Centre for Environmental Law and Governance of the University of Strathclyde (Glasgow, UK, 2013-2015), Consultant and lecturing staff for the Nuclear Energy programs conducted by the International Atomic Energy Agency (IAEA, 2011-2014)), Course Instructor with the e-Learning Programme on Climate Change by the World Bank and Consultant for energy projects funded by Asian Development Bank (ADB).
Nanda Kumar is a post graduate in Politics and International Relations, and has received Doctorate from the University of Delhi, under the guidance of Prof. Sreemati Chakrabarti on the topic of 'China's Energy Security Strategy'.