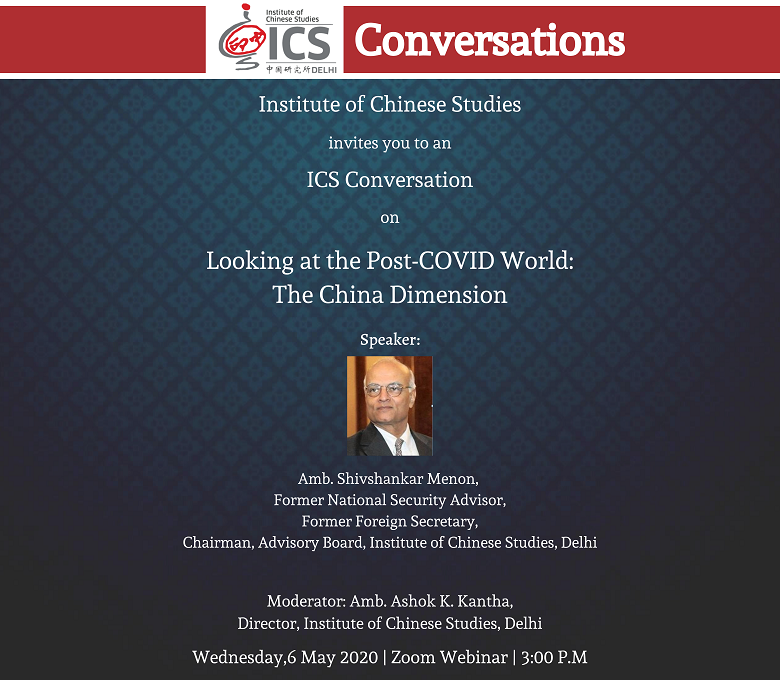 Please register for the webinar here
Abstract
The ICS Conversation will explore some of the emerging consequences of the Covid-19 pandemic,look at its impact on China and assess its implications for India-China relations.
The novel coronavirus with its origins in China is a global crisis which has disrupted normal life and economic activity worldwide and can be expected to have far-reaching implications for how the world sees China and for its own internal view of itself and its place in the world. China is crafting the narrative of an inept West, countering any suggestion of its culpability in the outbreak of Covid-19, and instead positioning itself as a saviour in dealing with the pandemic. There are a number of questions with only tentative answers available yet. How will the pandemic impact the leadership of Xi Jinping and the Communist Party of China? Will it set China back in its aspirations to emerge as a developed economy and as the leading power in the Asia-Pacific region and globally? What will be the fallout for Asia's geopolitics? Are we going to see a more assertive China, reluctant to moderate its demands on its perceived interests, in the wake of Covid-19, amidst intensified US-China strategic rivalry? Will this global crisis merely accelerate existing trends or will it mark a phase transformation, a new era?
Within this shifting context, China's relationship with India acquires a keener dimension. What direction will this relationship take as the two countries strategize for a changed world, and how would their internal and external positioning and compulsions impact their engagement with each other?
About the Speaker
Ambassador Shivshankar Menon is currently Chairman, Advisory Board, Institute of Chinese Studies, New Delhi; a Visiting Professor at Ashoka University, India; Distinguished Fellow of Brookings India; Distinguished Visiting Research Fellow at the National University of Singapore; Member, Board of Trustees, International Crisis Group; and, a Distinguished Fellow, Asia Society Policy Institute, New York.
He was previously National Security Advisor to the Prime Minister of India, Jan 2010-May 2014; Foreign Secretary of India, October 2006-July 2009; and has served as the Indian Ambassador or High Commissioner to China, Pakistan, Sri Lanka and Israel.
In 2016 he published Choices; Inside the Making of Indian Foreign Policy (Brookings & Penguin Random House, 2016). He has been a Fisher Family Fellow at
the Kennedy School, Harvard University, 2015 and Richard Wilhelm Fellow at MIT in 2015. He was chosen one of the "Top 100 Global Thinkers" by Foreign Policy magazine in 2010.