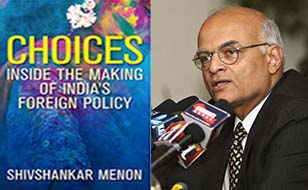 Shivshankar Menon is an Indian diplomat, who served as National Security Advisor to Prime Minister Manmohan Singh. He had previously served as the Foreign Secretary, the top diplomat in India. Prior to that, he was Indian High Commissioner to Pakistan, and Sri Lanka and ambassador to China and Israel
His first book, Choices, will remain essential reading for anyone interested in the evolution of contemporary India's foreign policy. Menon picks five important themes, in separate chapters, for discussion: the pacification of the border with China, the negotiation of the nuclear deal with the United States, coping with Pakistan's cross-border terrorism, the Sri Lankan civil war and the evolution of India's nuclear doctrine.
Shivshankar Menon gives an insider's account of the negotiations, discussions and assessments that went into the making of five pivotal choices in India's recent history. These include the decision not to use overt military force against Pakistan after 26/11; the civil nuclear deal with the United States; the border agreement with China; the response to the last months of Sri Lanka's brutal civil war; and the thinking that underlay India's No First Use nuclear policy. Drawing on his long and distinguished career as a diplomat holding critical positions in India's external affairs ministry and in the prime minister's office, Menon considers each situation against the backdrop of India's evolving definition of her place in the changing global landscape. He brings out the history, politics and principles involved, while examining and dissecting the reasons for the outcome. Analytical, lucid and illuminating, Choices is an unmatched insight into the intellectual heft of foreign policy decision-making by one of India's most formidable diplomatic practitioners who was actively engaged in these five defining moments.