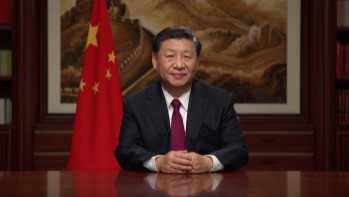 On 16 October 2022, Xi Jinping, on behalf of the 19th Central Committee of the Communist Party of China (CPC), delivered a report to the 20th CPC National Congress. The report enumerated achievements the CPC made in the New Era (2012- ) and drew a blueprint for the future direction of the Party and the State. As was widely speculated, Xi secured a third term brushing aside the regulations (Deepak 2022a) and promoted his loyalists so that the "banner and line" of Xi Jinping's Thought could be held high in the second decade of his rule. The following assumptions would help put his third term in perspective:
1. Xi Jinping's New Era is defined by the economy in command paving the way for the politics in command as challenges continue to mount for China on both the domestic and international fronts. "A slide towards weak, hollow, and watered-down Party leadership" of the Reform era, confirms the contradiction that those in the CPC who have failed to inherit the "good red genes" have eroded the legitimacy of the Party, and hence the "banner and line" of Xi Jinping's Thought on Socialism with Chinese Characteristics for the New Era must be held high so that the "colour of China's mountains and rivers remain unchanged" and the path, theory, system, and culture evolved by the Party are not weakened and compromised.
2. The discourse of power emanating from China in the form of building communities with shared future and Chinese style modernisation present a novel discourse which essentially denounces the dominant Western discourse on development as deficits in the areas of development and governance continue to increase, peace remains elusive and conflicts rage across continents.
Keywords: Xi Jinping Thought, New Era, 20th Party Congress, Chinese Style Modernisation.