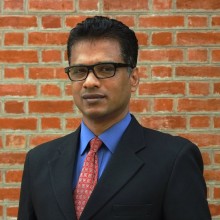 V Krishnappa is currently reading for Master's in Strategy and Innovation at Said Business School, University of Oxford. Krishnappa is working on culture and strategy formation in business and foreign policy domains in India, China and Japan. His other research interests include: corporate strategy; innovation and change management; culture and strategy; scenario approach to strategy formation and global strategy. He is particularly interested in cultural and political dimensions of strategy formation in complex organizational contexts.
Krishnappa was research Fellow at Institute of Defence Studies and Analyses (IDSA), New Delhi (2004- 2013), on deputation from Indian Air Force. Prior to joining IDSA he served in the Indian Air Force attaining the rank of Group Captain.
During his tenure at IDSA Krishnappa led an inter-disciplinary National Strategy Project (INSP); directed Scenarios based project Strategic Trends 2050. He co-lead the Norwegian Institute for Defence Studies (IFS) project on India's strategic thought and practice. He was Review Editor of the Strategic Analysis and Member of the Editorial Committee of Journal of Defence Studies.
Krishnappa is alumni of Defence Services Staff College (DSSC). He earned MSc with distinction from University of Madras in Defence and Strategic Studies in 2003. He read peace research at University of Oslo (2008). He read advanced certificate in General Management at Indian Institute of Management, Ahmedabad (2013-14).
Krishnappa has participated in number of seminars, conferences, bilateral dialogues, consulting projects and he is often invited to deliver lectures in various institutions in India and abroad.
He has a number of publications to his credit in peer review journals. Most recent publications include: Kanti Bajpai, Saira Basit and V Krishnappa (ed.) India's Grand Strategy: History, Theory, Cases, Routledge, New Delhi, 2014; Krishnappa Venkatshamy and Princy George (ed.), Grand Strategy for India 2020 and Beyond, Pentagon Press International, New Delhi, 2012.