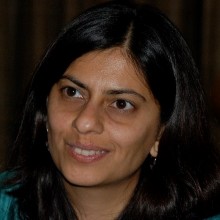 Sonia Shukla is currently co-authoring a book on the India-China border policy, as well as working as a consultant on Indian foreign and security policy issues.
While specialising in foreign affairs and international security issues, Sonia launched and edited a high-end strategic affairs magazine called, Defence and Security of India. Sonia has been an editor at The Indian Express, contributing regular articles and opinion on all areas of Indian foreign policy including India's fight against terrorism and the rise of fundamentalist forces in the region, India-Pakistan relations, Missile Defence, India's relations with its other neighbours and the United States.
As part of her book research, Sonia lived in Arunachal Pradesh, close to the China border in the West Kameng and Tawang districts.As part of her work, Sonia has visited Beijing, Xian, Chongqing and Shanghai in China as part of a Sino-Indian exchange programme to study the impact of economic reforms in China and represented The Indian Express on the Prime Minister's visits to Vietnam and Indonesia in 2001. Sonia also worked at and wrote for The Independent newspaper in London in May 2000. Apart from journalism, Sonia also edited a book on Peace Processes in Asia and Africa in 2006.
Sonia Shukla is a Chevening Scholar from the University of Westminster, London. Her interests are travelling, reading, and trekking.