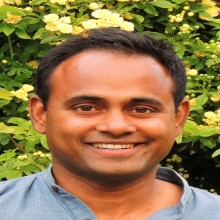 Raviprasad Narayanan is Associate Research Fellow with the Institute of International Relations (IIR) and concurrently, Assistant Professor, International Doctoral Program in Asia-Pacific Studies, College of Social Sciences, National Chengchi University, Taipei. The IIR is Taiwan's most renowned think-tank specializing on strategic and security issues and NCCU is Taiwan's leading university specializing in social sciences.
After a post-graduate degree in Political Science from Jawaharlal Nehru University, New Delhi he earned his M.Phil/Ph.D from the Centre of East Asian Studies, School of International Studies, Jawaharlal Nehru University. On completing his Ph.D, he worked with the Institute for Defense Studies & Analyses (IDSA), from 2003 to 2009. His research interests include Sino-Indian relations, South Asian security, Asia-Pacific security issues and IR Theory & Research Methods. He has taught graduate courses on Research Methods in IR, International Relations of South Asia and Contemporary India – Politics, Economics and Security of a Rising Power. His publications have appeared in the Asian Perspective, China Report, Harvard Asia Quarterly and the Strategic Analysis among other journals.
The main thrust of his writings is to tease out interstices within the rubric of China-India relations and to explore nuances of a growing bilateral that despite palpable differences on contested issues like the unresolved boundary between the two countries has elements of cooperation – evidenced by the congruence the two sides display when it comes to non-traditional security issues like climate change. A continuous strand emphasizing itself in his research is that China and India occupy a unique place in contemporary international relations attracting much needed epistemological categories. The categories have to emerge from the respective epistemic communities in both the countries since existing frames and approaches fall short in providing a typology capturing the essence of what these two civilizational states are all about.