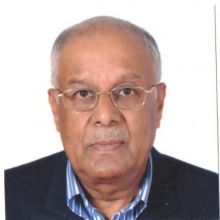 Ranjit Gupta joined the Indian Foreign Service in 1964 and retired in 2003. He was a member of the Prime Minister's National Security Advisory Board for the term 2009-2010.
Amongst his postings during his 39 year career with India's Ministry of External Affairs was Head of India's Representation in Taiwan from May 2000 to May 2003. He is currently a Distinguished Fellow of the Institute of Peace and Conflict Studies and a Visiting Adjunct Fellow at the Institute of Chinese Studies. Earlier he has been Visiting Fellow at the Institute of Defence Studies and Analyses, Visiting Professor at the Academy of Third World Studies, Jamia Millia Islamia, and Ambassador-in-Residence at the Jawaharlal Nehru University. He has been delivering lectures at think tanks, universities and other academic institutions in India and abroad and participating in conferences, seminars and workshops primarily relating to India's relations with the Gulf Region; Southeast Asia and East Asia including in particular relating to ASEAN, China, Myanmar, Taiwan and Tibet and India's 'Look East' Policy; and, India's National Security Challenges.
He has been participating in Taiwan related activities of ICS - primarily by organising and participating in interaction with visiting delegations from Taiwan, attending Taiwan related talks and seminars etc. and writing on Taiwan related subjects for the ICS Journal. He has lectured and written about India China relations in a variety of fora fairly regularly.