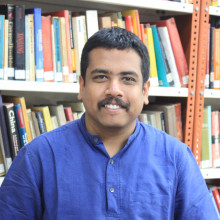 P.K.Anand is a Visiting Associate Fellow at the Institute of Chinese Studies. He holds a PhD in Chinese Politics from the Centre for East Asian Studies at the Jawaharlal Nehru University, New Delhi. Awarded in June 2017, his doctoral thesis is titled 'Market Dynamics and State Responses in China: Social Welfare and Industrial Workers, 1987-2008'. He also completed his M.Phil from the same centre in 2008. He completed his Master's in Politics (with specialization in International Relations) from the School of International Studies, Jawaharlal Nehru University in 2006.
He completed a two-year India-China comparative project funded by ICSSR on Labour Relations and Welfare in Small and Medium Enterprises in Mumbai and Wenzhou. He also spent ten months as a Visiting Fellow at the Harvard-Yenching Institute, Cambridge, Massachusetts, USA from August 2016-May 2017.
In addition to his Research Associate position, he is also the Programme Officer at the Institute.
His areas of interests are China's Political Economy, Labour, Social Welfare and Social Policies, Economic Reforms, and Urbanization.