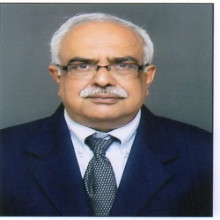 Kamal Sheel was a Professor of Chinese Studies at the Banaras Hindu University, Varanasi, India, until his retirement in 2016. He is now a Trustee of the Aditya Shyam Trust and the Chairperson of the BJK Institute of Buddhist & Asian Studies at Varanasi.
Kamal Sheel did his B.A. Honours in History from the Banaras Hindu University and had graduate training in Chinese language and history at Fu-Jen Catholic University and the National Taiwan University, Taipei, Taiwan. He earned his Ph.D. in the field of Modern Chinese History at the University of Wisconsin - Madison, USA. He has been Visiting Professor/ Fellow at the universities in Wisconsin- Madison, Yale, Copenhagen, Beijing, Singapore, and Taiwan.
His current research interest primarily lies in the area of social and intellectual history of China, and cultural interaction and encounters in Asia with a focus on India and China. His major publication is Peasant Society and Marxist Intellectuals in China (Princeton 1989). He also has to his credit jointly edited volumes entitled India on the Silk Road (Delhi, 2009), From Local to Global: Papers in Asian History & Culture (Delhi, 2017), Thirteen Months in China: A Subaltern Indian and the Colonial World (Oxford, 2017). He has also been one of the editors and contributors to the Encyclopaedia of India-China Cultural Contacts. His major articles include "Chinese Discourses on India", "State and TVEs in China", and "Informal Economy and Post-Mao Reform".