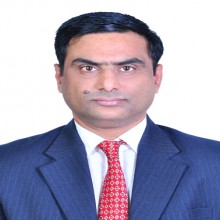 G. Venkat Raman is currently a faculty in the Indian Institute of Management, Indore, Humanities and Social Sciences (Department) since February 2015. He is one of those young Indian sinologists who has had a unique experience of being part of the academic as well as the corporate world in China during the course of his six years and eight months stay (in China) during the period June 2003 to Jan 2010. Apart from being fluent in Mandarin he has the distinction of being one of the few Indians who have been awarded a doctoral degree by a Chinese university and the first in the recent memory to be awarded a doctoral degree by the most prestigious Chinese university,(the School of Government) Peking University, Beijing. After graduating from the Peking University he worked as a Business Development Manager (middle level management, M-7) in the Essar Steel's representative office in Beijing for two years and eight months.
Before joining IIM Indore, he was a faculty in IIM Kozhikode where he used to teach Business Ethics (core course) to the regular Post Graduate Programme students in IIM Kozhikode. Besides, he has designed electives like 'Geopolitics and Business', 'Understanding Emerging Markets' (in collaboration with another faculty colleague). He has also been a visiting faculty in the Great Lakes Institute of Management, IIM Ranchi where he has designed and delivered courses like 'Doing Business in China: A Managerial Perspective', 'Introduction to Business Chinese' (elementary level language course).
His research interests include Sinology (mainly Chinese Government and Politics), India-China Relations, International Relations. Recently he was awarded a visiting fellowship (for a period of two months) by the BRICS centre of the Fudan University, Shanghai in China. Under the auspices of this fellowship he has started to work in the area of 'environmental governance' in China. Earlier he has also been a visiting scholar to the Shanghai Academy of Social Sciences, Shanghai and the Centre for Asian Studies, Hong Kong University under the auspices of the Nehru Memorial Fellowship. Before seeking admission in Peking University in Beijing, China to pursue his doctoral studies under the China Government Fellowship, he had completed his MA and MPhil from the Centre for East Asian Studies, School of International Studies, JNU, New Delhi. He has done his graduation (Political Science major) from Sri Satya Sai Institute of Higher Learning, Prashantinilayam, Puttaparthy.
Currently he is working on an ICSSR sponsored project on BRICS nations (in collaboration) with some JNU faculty colleagues. He aspires to spread more awareness about China studies among the management students and business executives and contribute to the cause of Sinology in India.