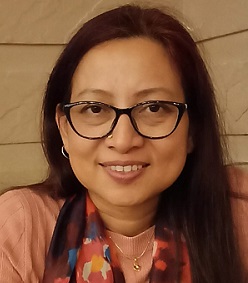 Dr. Dharitri Narzary Chakravartty an Adjunct Fellow at Institute of Chinese Studies. She teaches history to undergraduate and post-graduate students at Dr B. R. Ambedkar University, Delhi (AUD). She specializes in Japanese studies and her interest areas include race and minority issues, marginality, multiculturalism, imperialism and colonialism, Japanese pan-Asianism, education, Society and culture. She completed her BA and MA in History at the University of Delhi, M. Phil from the Department of Chinese and Japanese Studies, University of Delhi and Ph. D from the Department of East Asian Studies, University of Delhi.
She served as the Founder Convenor (2011-17) of North East Forum (NEF) at AUD, a platform for university scholars to share ideas and collaborate for research on India's north-eastern region, which closely works with the University's Centre for the Community Knowledge (CCK), Deputy Dean of the School of Undergraduate Studies (2014-16) and Deputy Dean of Student Services (2016-18).
Prior to joining AUD in April 2011, Dr Dharitri worked as a Research Associate cum Correspondent at the India Bureau of the Yomiuri Shimbun (New Delhi office), the largest circulated Japanese newspaper published from Tokyo (2007-2011). She had also worked as Programme Officer and Research Assistant at the Institute of Chinese Studies, Centre for Developing Societies (CSDS), Delhi, from 2002-2005 and 2006-2007 respectively.