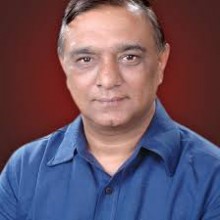 Atul Bhardwaj is Senior Fellow, Indian Council of Social Science Research with the Institute of Chinese Studies (ICS), New Delhi. He is an Ex- Indian Naval Aviator. He holds a graduate degree from National Defence Academy (NDA) Pune and a Master's degree in "War Studies" from King's College London. He is also a gold medalist in "International Law and Diplomacy" from the Society of International Law," New Delhi.
He was Research fellow at the Institute for Defence Studies and Analyses (IDSA), New Delhi, where he published papers on "Globalization and National Security". He writes a regular column (once in three months) on strategy in Economic and Political Weekly. He is also pursuing PhD in 'political and ideological influences on Indian leadership leading to 1962 war', from Ambedkar University, Delhi.
He has published several papers in refereed journals and edited books and also several articles and commentaries in leading international and national newspapers. He writes for Economic and Political Weekly, besides magazines like Frontline. Atul has also worked as associate editor in "Business and Economy" magazine and was the founding editor of two defence magazines, 'Purple Beret' and 'Salute".