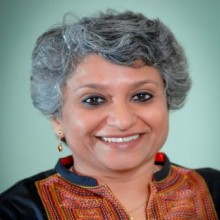 Ashwini Deshpande is Professor of Economics at the Delhi School of Economics, University of Delhi, India. Her Ph.D. and early publications have been on the international debt crisis of the 1980s; also on aspects of the Chinese economy. Subsequently, she has been working on the economics of discrimination and affirmative action issues, with a focus on caste and gender in India. She has published extensively in leading scholarly journals. She is the author of "Grammar of Caste: Economic Discrimination in Contemporary India", OUP, 2011 and "Affirmative Action in India", OUP, Oxford India Short Introductions series, 2013.
She is the editor of: "Boundaries of Clan and Color: Transnational Comparisons of Inter-Group Disparity" (along with William Darity, Jr.), Routledge, London, 2003; "Globalization and Development: A Handbook of New Perspectives", Oxford University Press, New Delhi, 2007 (hardcover) and 2010 (paperback); "Capital Without Borders: Challenges to Development", Anthem Press, UK, 2010 (hardcover) and 2012 (paperback) and "Global Economic Crisis and the Developing World" (with Keith Nurse), Routledge, London, 2012.
She received the EXIM Bank award for outstanding dissertation (now called the IERA Award) in 1994, and the 2007 VKRV Rao Award for Indian economists under 45.