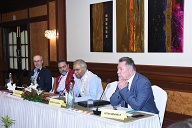 3rd India Forum on China
ICS & KAS, Goa University
International Conference |5-8 Dec
The India Forum on China @Goa (IFC), hosted by the Institute of Chinese Studies (ICS) and Konrad-Adenauer-Stiftung (KAS) in cooperation with Goa University, has developed as an annual international conference where eminent scholars, practitioners and policymakers from India and other countries hold in-depth deliberations on a topical theme pertaining to China in an Indian setting, keeping in mind Indian perspectives. This year's theme was 'China and Asia's Changing Geopolitics'
.
Watch>>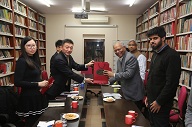 Delegation Visit fom China Pictorial Publications, Beijing
China Pictorial Publcations
Delegation Visit |9 Dec
In 2016, China Pictorial Publications launched China-India Dialogue, a multimedia project that includes print magazines, the official website and social media accounts. The China-India Dialogue magazine, the first ever publication for promoting mutual trust and economics, trade and cultural relations between China and India, provides-in-depth review, facts and figures and new insights to elite institutions and individuals in India
.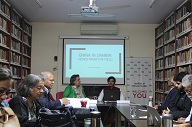 China in Zambia: notes from the field
Veda Vaidyanathan
Wednesday Seminar |11 Dec
As a part of the 'China in the World' research programme at the ICS, Veda Vaidyanathan undertook a 2 week long fieldwork in Zambia to understand China's increasing engagement with the country. In this talk, the speaker recollected her experiences from the field, discuss the multiple stakeholder perspectives that coexist and share the main takeaways from her interviews
.