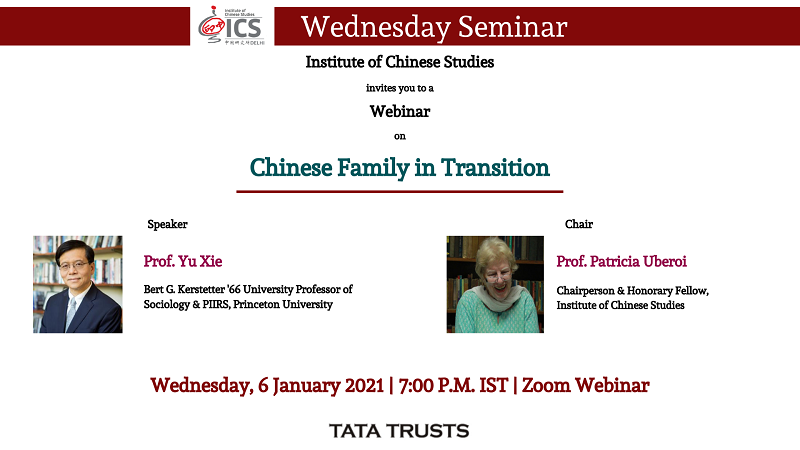 Chinese Family In Transition
Prof. Yu Xie
Wednesday Seminar | Zoom Webinar |6 January 2021
The Chinese family has been undergoing a rapid transition in the past few decades, with many of its traditional functions and practices fundamentally changed. We find that union formation in China has trended increasingly towards patterns commonly observed in the West, including delayed ages of marriage and common practices of premarital cohabitation. Despite below-replacement fertility, childlessness remains rare among married Chinese couples. In addition, almost all children are born and raised within marriage, with a virtual absence of nonmarital childbearing in China. Although a slight increase was observed in divorce across cohorts, the divorce rate within 10 years in China was much lower than in other East Asian societies. The speakers research suggested that the Chinese family has been changed by modernization and economic development, but it is still influenced by a Confucian culture.
.
Listen>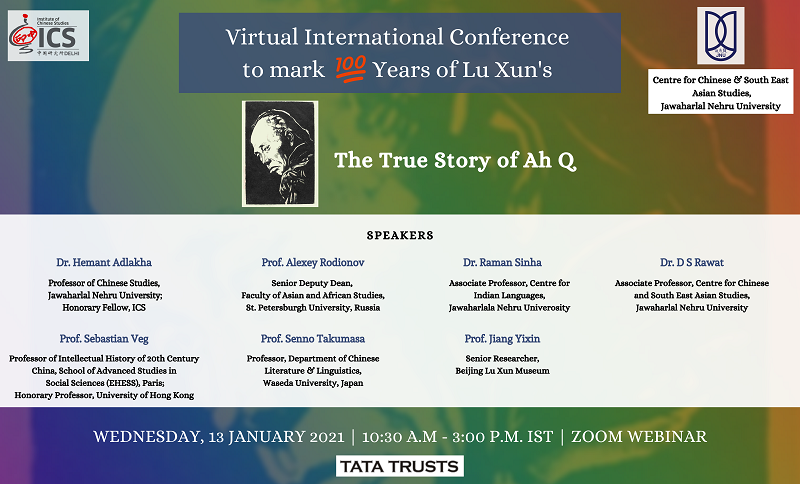 Conference | The True Story of Ah Q Centenary
Hemant Adlakha, Alexey Rodionov, Raman Sinha, D S Rawat, Sebastian Veg, Senno Takumasa, Jiang Yixin
Virtual International Conference | Zoom Webinar | 13 January 2021
The True Story of Ah Q first appeared as a nine-part series, a-chapter-a-week, in the Literary Pages of the Morning News or Chenbao, published from Beiping (now Beijing) between December 1921 and February 1922. Lu Xun, fearing rebuke and rejection from the so-called guardians of the traditional literary scholars, chose Ba Ren (in Chinese Ba Ren meant a 'commoner') as the pseudonym for the column – to both hide his identity and to protect his literary image. What was most overwhelming for Lu Xun was the chapter-by-chapter publication of The True Story of Ah Q becoming a sensation among people from all walks of life, especially among intellectual circles. Since 4 December one hundred years ago, scholars and critics in China, Japan and in the West, have relentlessly upheld True Story of Ah Q .
Listen
US–China Relations under the Biden Administration: Implications for India
Amb. Arun K. Singh, Ananth Krishnan
Wednesday Seminar | Zoom Webinar | 20 January 2021
As the US transitions to a Biden Presidency, there is inevitable anxiety among countries, institutions, and people at the receiving end of China's unilateral assertions based on its accrued economic, technological, and military strength. For decades, especially since 1979, US policy was "engagement" with China in the belief and advocacy that this would lead to political and economic liberalization. The Deng-articulated policy of "hide and bide" did not challenge this assumption directly. The Obama-Biden administration, from 2009- 2016, struggled to find the right approach, moving from "strategic reassurance" to "pivot" and then "rebalance" to Asia. But it shied away from effectively preventing Chinese militarization of features in the South China Sea, and did not support Japanese and Philippines claims on Scarborough and Senkaku.
Watch>