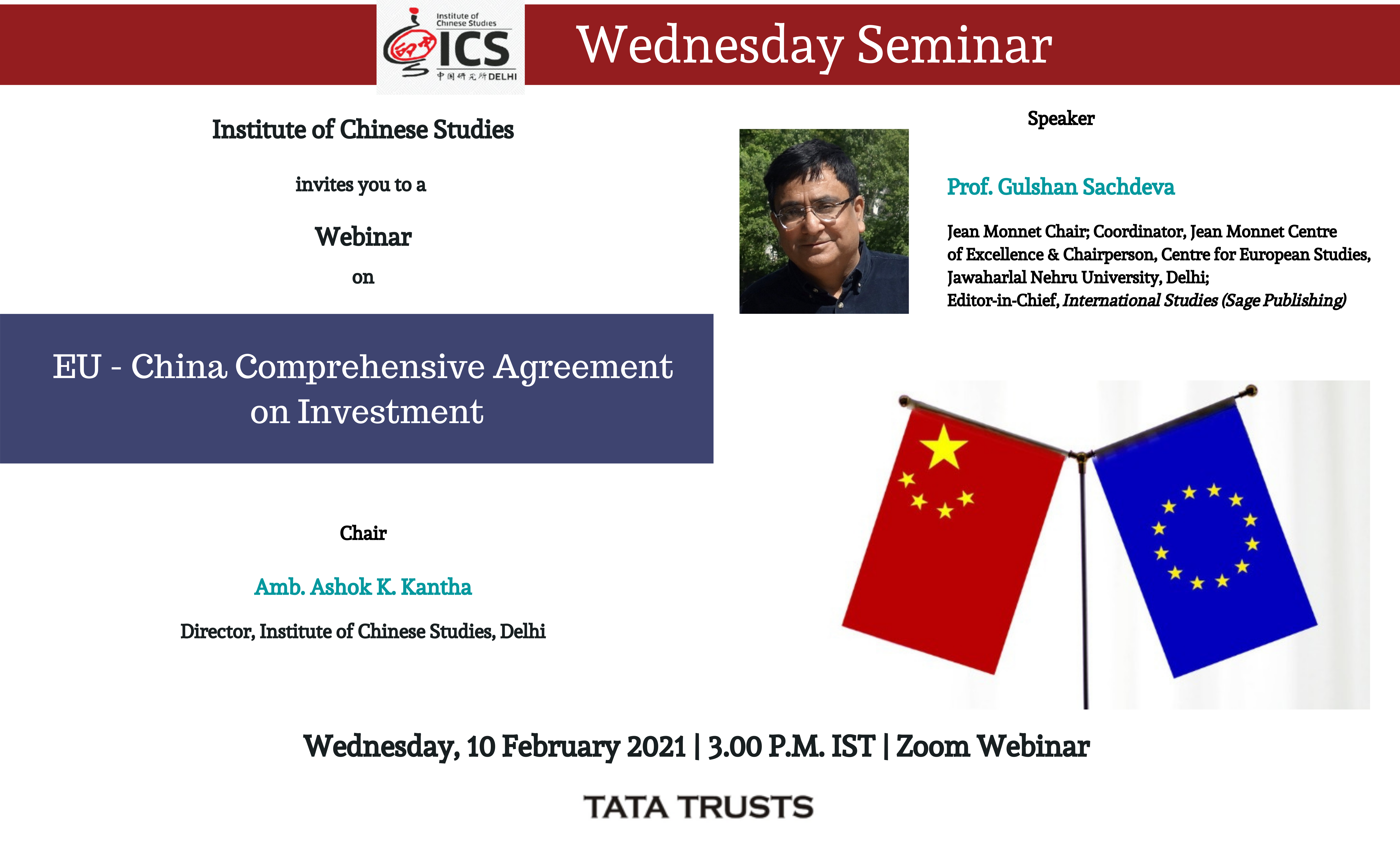 EU – China Comprehensive Agreement on Investment
Prof. Gulshan Sachdeva
Wednesday Seminar | Zoom Webinar |10 February 2021
After seven years and 35 rounds of negotiations, the EU and China have finally agreed for a Comprehensive Agreement in Investments (CAI). Compared to bilateral investment treaties, the CAI will put in place a single EU-China investment framework. As both the EU and China are economic heavyweights, the economic and strategic significance of the deal cannot be underestimated. The CAI is not an FTA. But it will serve an important tool to open Chinese market for EU companies. Despite all the talk of 'geopolitical' EU and a common transatlantic front against assertive China, the deal has once again shown that what matter most to its member states is economics. Some EU countries may also like to project it as a sign of their strategic autonomy from the US. Moreover, CAI linked with recently signed RCEP is such an opportunity, which the EU could not ignore easily. With prospects of liberal investment opportunities in a lucrative Chinese market, 'decoupling' from China narrative will become weaker in Europe. The EU not naïve about timing and political significance of the deal. However, despite labelling China as a 'systemic rival' and 'economic competitor', Brussels does not want to be on the wrong side of a rising power. The CAI deal rather shows that it is ready to take advantage from an emerging geopolitical dynamic in the Indo-Pacific.
.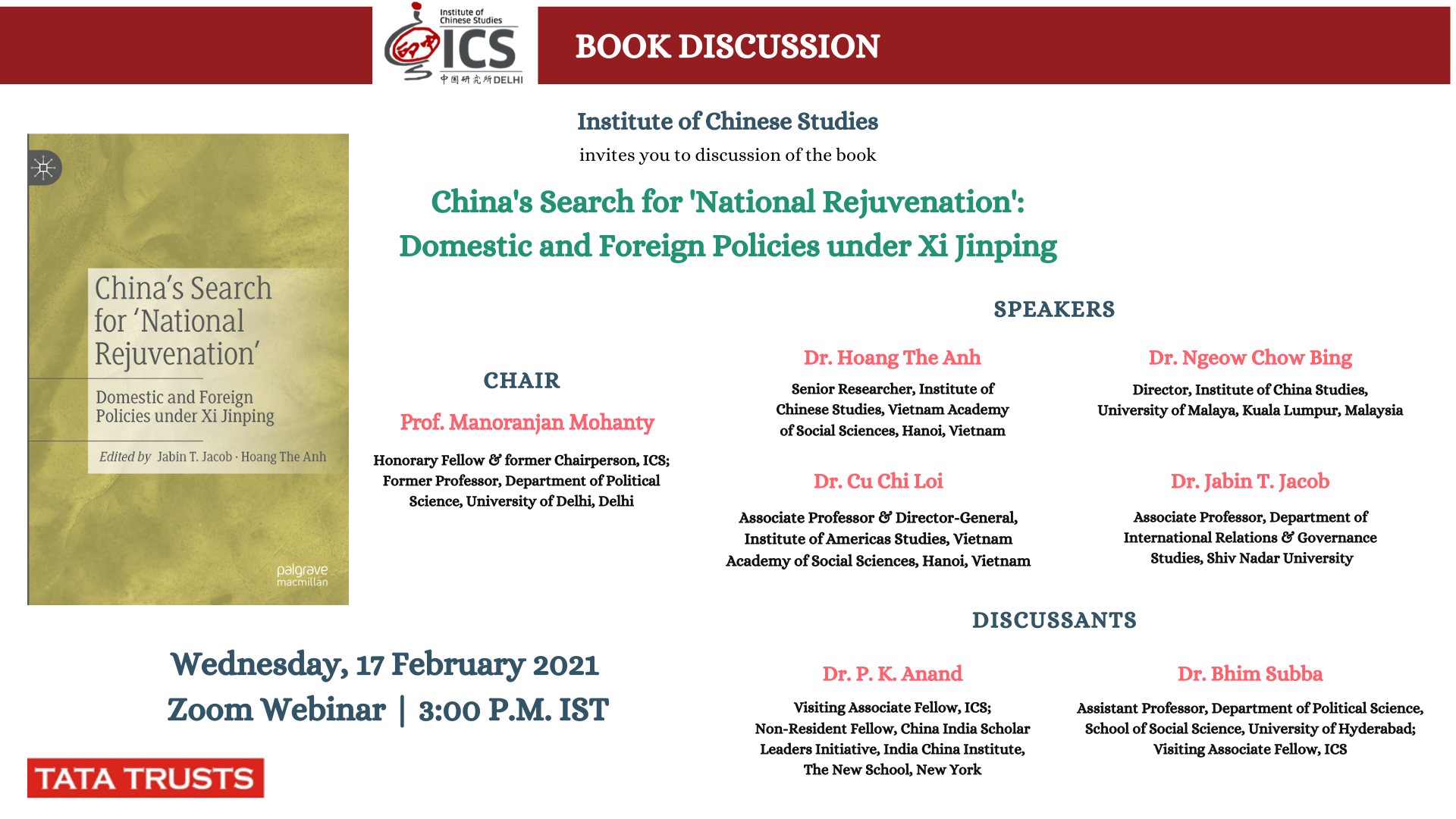 Book Discussion | China's Search for "National Rejuvenation': Domestic and Foreign Policies under Xi Jinping
Jabin T. Jacob, Hoang The Anh, Cu Chi Loi, Ngeow Chow Bing
Book Discussion | Zoom Webinar |17 February 2021
The book discusses key domestic forces driving current Chinese growth ranging from economic reforms to governance practices, and analyses their impact and influence at home as well as on China's foreign and security policies in its near and extended neighbourhood. It also looks at specific themes - technology, agricultural development, reform of state-owned enterprises and the use of Party bodies to engage in foreign propaganda work among other issues to offer examples of the merging of Chinese domestic political and foreign policy interests. In the process, the volume offers its readers a better idea of China's place in the world as the Chinese themselves see it and the implications over time for China, its neighbourhood and the wider world. The book uniquely has an all-Asian cast of experts on Chinese domestic, foreign and security policies.
Listen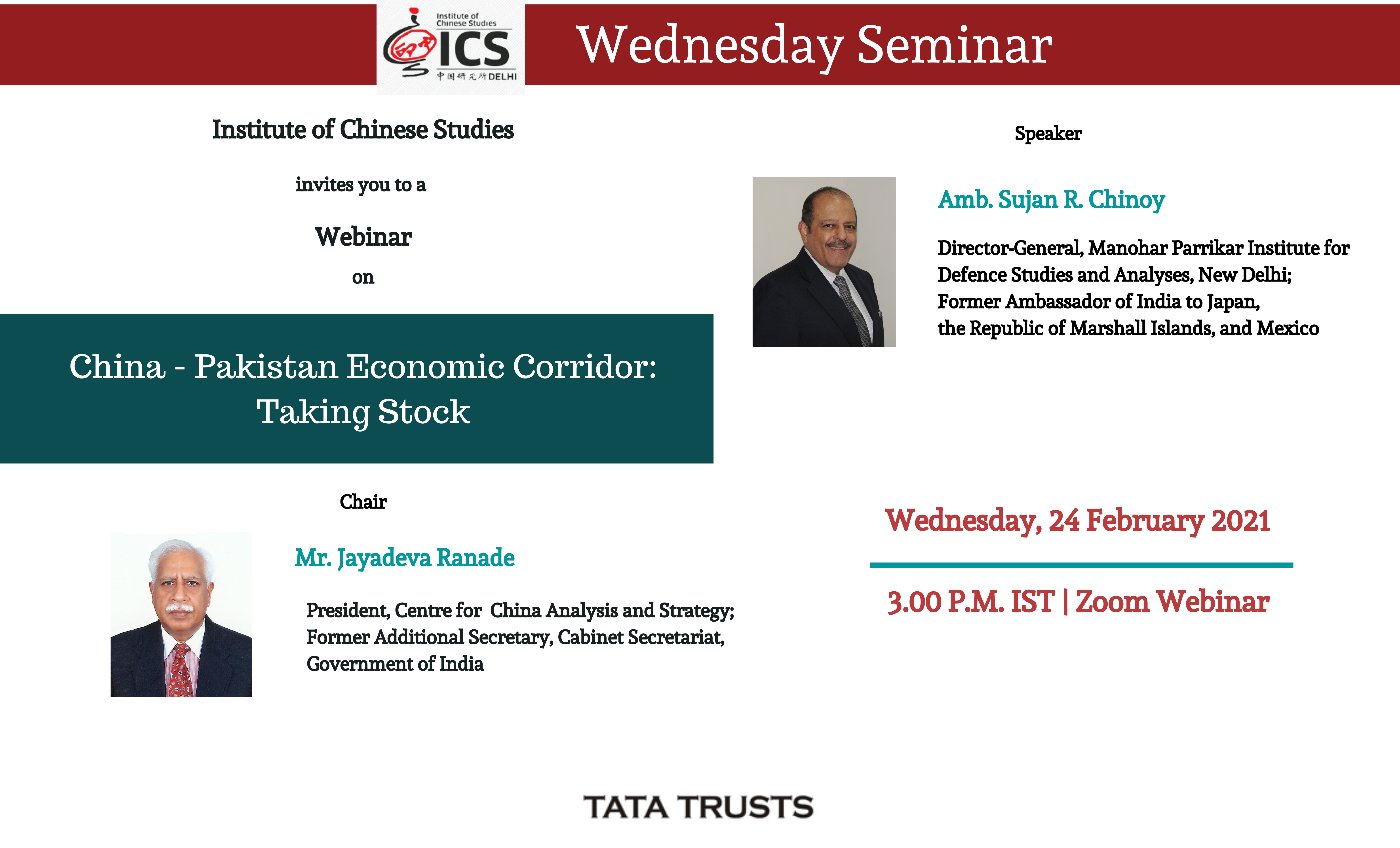 China – Pakistan Economic Corridor: Taking Stock
Amb. Sujan R. Chinoy
Wednesday Seminar | Zoom Webinar |24 February 2021
The China-Pakistan Economic Corridor (CPEC) has been earmarked as a flagship project of the Belt and Road Initiative (BRI), which is described as Chinese President Xi Jinping's signature foreign policy initiative and a grand strategy aimed at restoring China's "rightful'' great-power status in the world. It is a major plank in China's geo-strategic and economic architecture for the region, using Pakistan to secure an exploitative strategic perch in South Asia and the Arabian Sea, overlooking the crucial Persian Gulf, the west coast of India, and the east coast of Africa. Pakistan's economic distress, friction between Islamabad and Washington in recent years, and, its enduring tensions with India, provide Beijing an opportunity to draw Pakistan even closer into its strategic orbit. It is increasingly clear that not only will the CPEC extract a high price from Pakistan in terms of its sovereignty, it will also entail a substantial, if not downright usurious, economic cost. China intends to use Pakistan to hem India in, within the South Asian region and limit its elbow room in the Indian Ocean. The CPEC is viewed in Balochistan as an endeavour to exploit the province's natural resources at the cost of the local people, spurring the insurgency. Elsewhere too, it gives rise to misgivings among the local residents. The opaque nature of the CPEC and its geostrategic underpinnings detract vastly from any economic growth and development that it may deliver.
Watch>