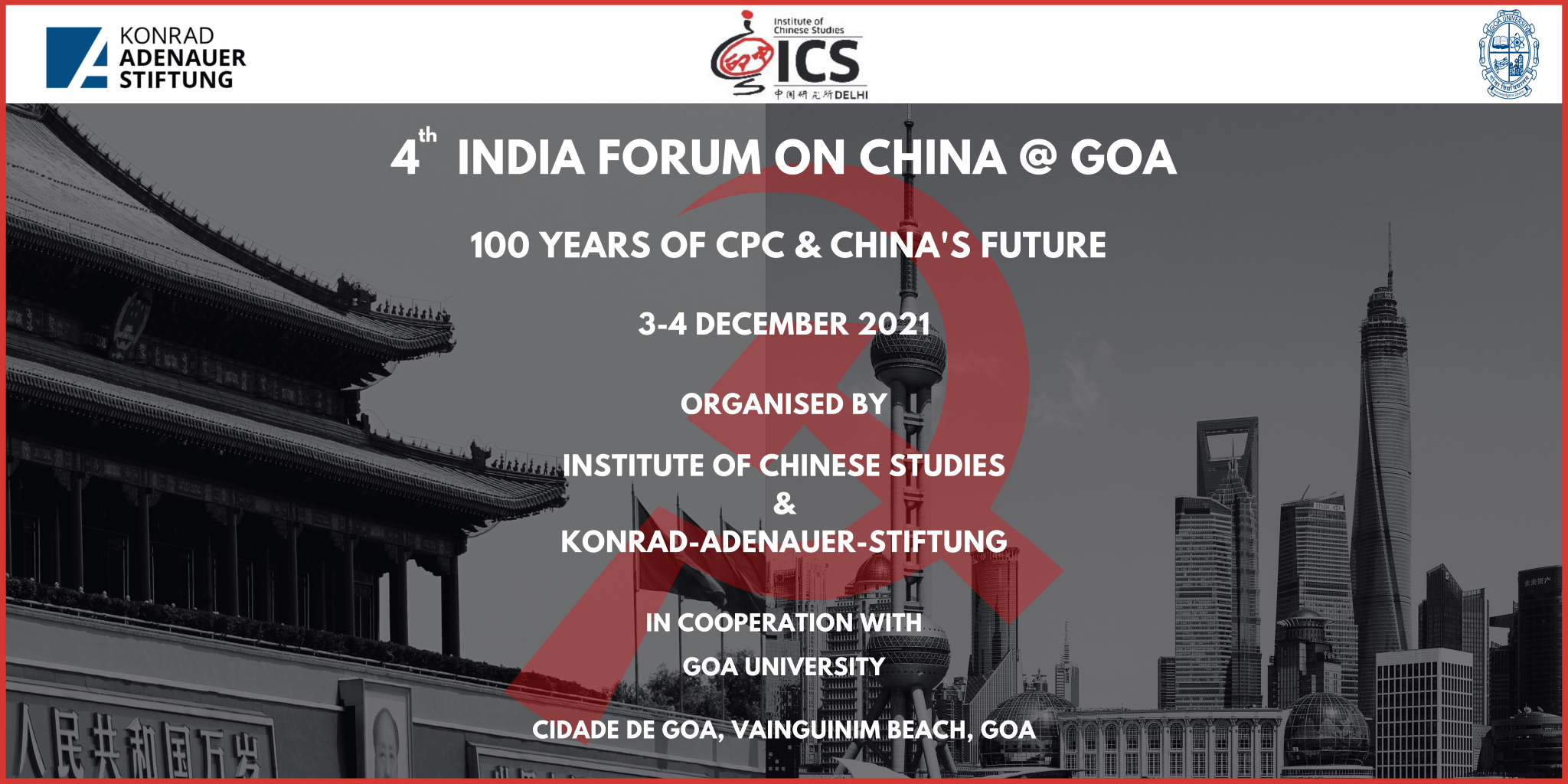 4th India Forum on China @ Goa: CPC at 100 and China's Future
3-4 December 2021
The 4th IFC was organised by the Institute of Chinese Studies (ICS), Delhi and Konrad-Adenauer-Stiftung (KAS) India Office with the support of Goa University at Goa on 3-4 December 2021. The theme of this Forum was "CPC at 100 and China's Future". The keynote address was delivered by Prof. Rana Mitter, Professor of History and Politics of Modern China & Fellow, St. Cross College, University of Oxford. Experts and participants deliberated upon themes such as National Rejuvenation: Sustaining Authoritarian Legitimacy, Power Projection in the Indo-Pacific, Cultural and Intellectual Tradition, Great Power Competition, China's Developmental Aspirations, Decoding China's Regional Ambitions and CPC at 100.
Full report>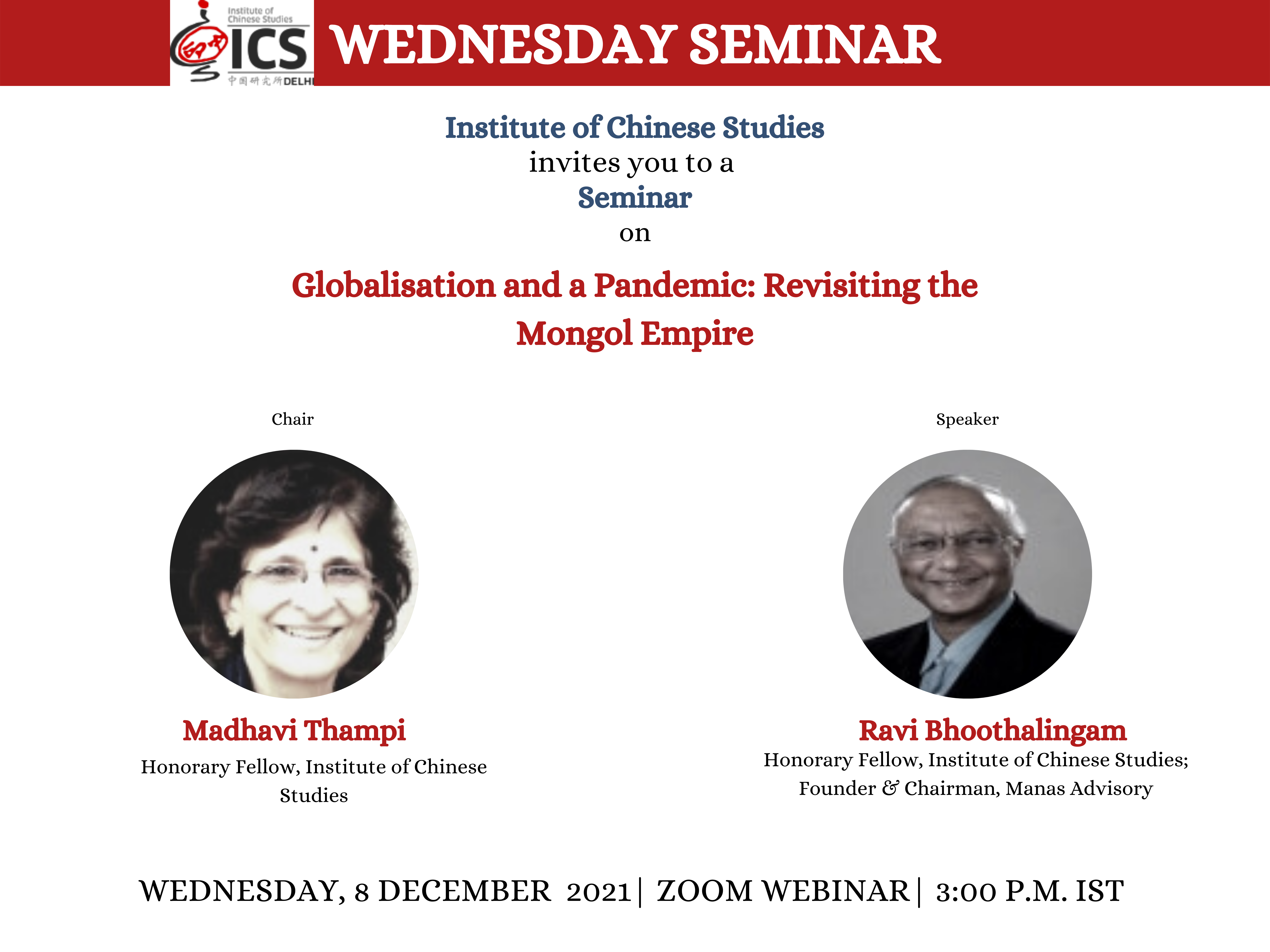 Globalisation and a Pandemic: Revisiting the Mongol Empire
Ravi Bhoothalingam
Wednesday Seminar | Zoom Webinar | 8 December 2021
The Mongol empire under Genghis Khan and his successors was an early and remarkable example of globalisation, brought about by what was once considered 'only' a nomadic civilisation. At its maximum expanse, the Empire stretched from the Sea of Japan to the gates of Vienna, and from Persia in the south to the Baltic Sea in the North. But from Inner Asia also arose the "Black Death"--the bubonic plague that wiped out nearly 40% of Europe's population. Today, as we experience both the benefits and the travails of globalisation, as also live through a global pandemic, revisiting the Mongol Empire may well reveal some insights for our times.
Listen>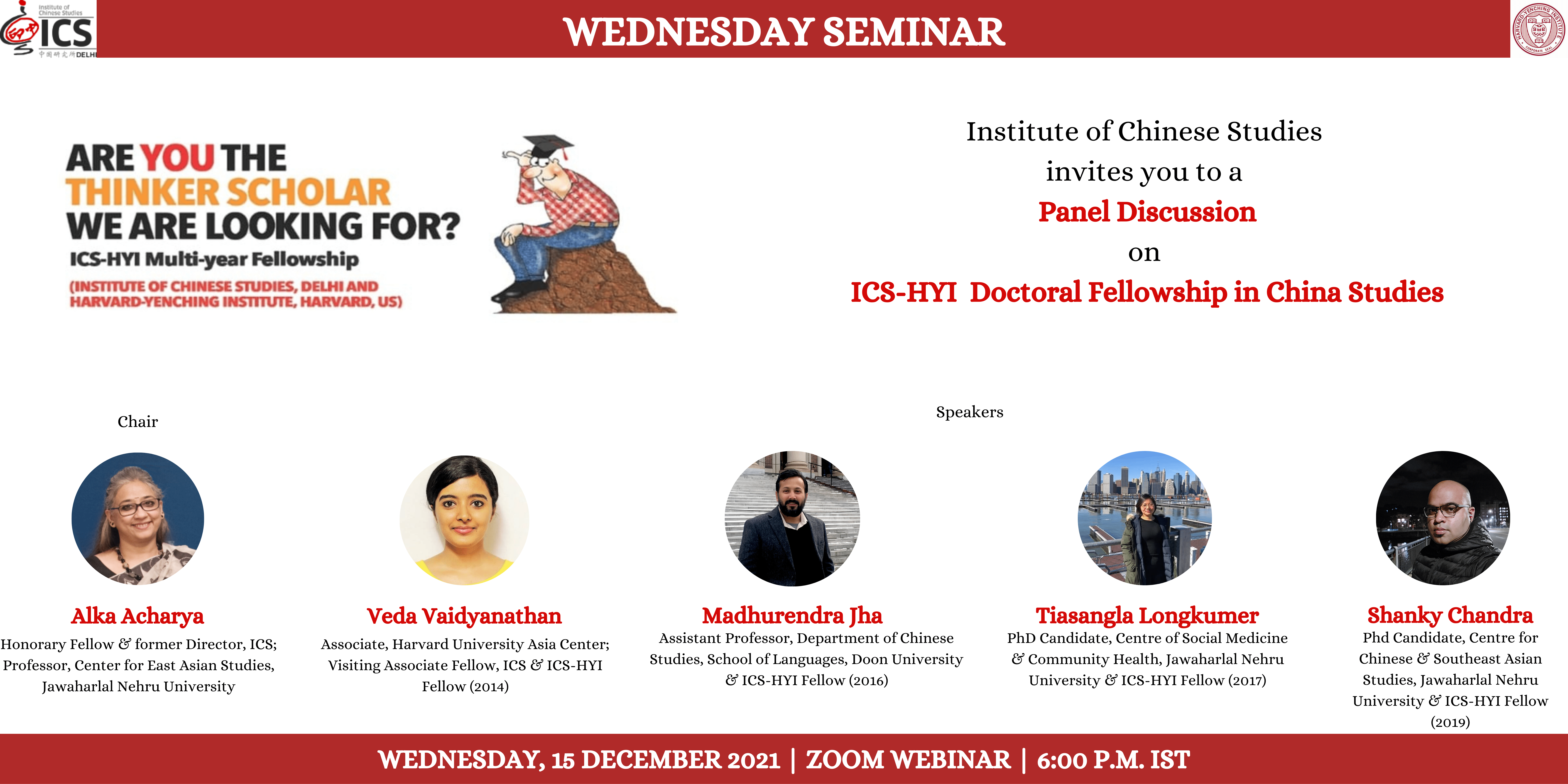 Panel Discussion: ICS-HYI Doctoral Fellowship in China Studies
Veda Vaidyanathan, Madhurendra Jha, Tiasangla Longkumer, Shanky Chandra
Wednesday Seminar | Zoom Webinar |15 December 2021
In collaboration with the Harvard Yenching Institute (HYI), the ICS inaugurated the Institute of Chinese Studies-Harvard Yenching Institute (ICS-HYI) Joint Scholarship for Doctoral Research in January 2014. Two scholarships for a period of five years each are awarded to selected candidates, enrolled in a doctoral Programme in Indian universities. In the first year, the selected candidate would strengthen Chinese language capabilities in India and thereafter spend one year in a Chinese university and the third year at the HYI in the United States. The recipients of the scholarship work across disciplines and are based in different universities in India. In the panel discussion, the panelists shared their journey as recipients of the prestigious fellowship and how it has helped them on their evolution and development as scholars/academics/researchers.
Watch>