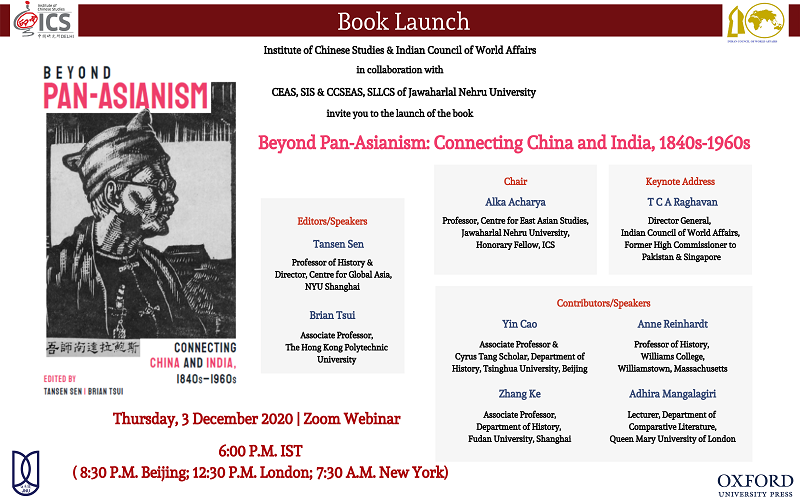 Book Launch: Beyond Pan-Asianism: Connecting China and India, 1840s – 1960s
Alka Acharya, Tansen Sen, Brian Tsui, Yin Cao, Adhira Mangalagiri, Anne Reindhardt, Zhang Ke
Conference| Zoom Webinar | 3 December 2020
Within Asia, the period from the 1840s to 1960s had witnessed the rise and decline of Pax Britannica, the growth of multiple and often competing anti-colonial movements, and the entrenchment of the nation-state system. Beyond Pan-Asianism seeks to demonstrate the complex interactions between China, India, and their neighbouring societies against this background of imperialism and nationalist resistance. The contributors to this volume, from India, the West, and the Chinese- speaking world, cover a tremendous breadth of figures, including novelists, soldiers, intelligence officers, archivists, among others, by deploying published and archival materials in multiple Asian and Western languages. This volume also attempts to answer the question of how China–India connectedness in the modern period should be narrated. Instead of providing one definite answer, it engages with prevailing and past frameworks— notably 'Pan-Asianism' and 'China/India as Method'—with an aim to provoke further discussions on how histories of China–India and, by extension the non-Western world, can be conceptualized.
.
Listen>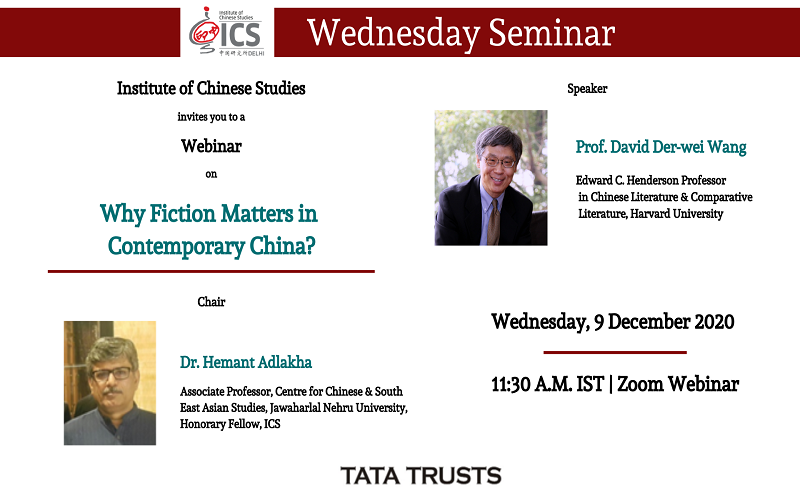 Why Fiction Matters in Contemporary China?
David Der-wei Wang
Wednesday Seminar | Zoom Webinar |9 December 2020
Taking as a starting point PRC President Xi Jinping's dictum to "Tell China's Story Well" (2013), this lecture observed the multiple attempts to tell the "China story" since the millennial turn. At a time when both "history" and "story" are incorporated into the truth regime of the state, fiction is now, more than ever, a highly contested form in manifesting the power of polyphony. The speaker discussed three of 'the most exciting' aspects of contemporary fiction in the Chinese and Sinophone world via three related terms: transgression, transmigration, and transillumination; and ponder their political and ethical implications.
.
Watch>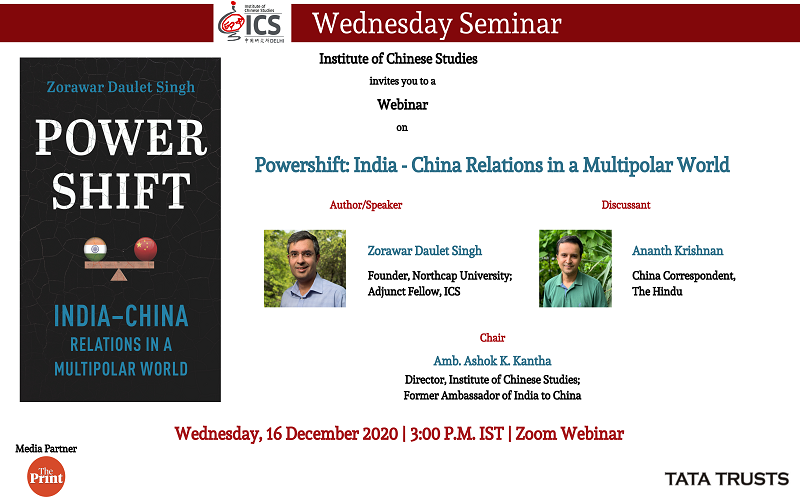 Powershift – India – China Relations in a Multipolar World
Zorawar Daulet Singh
Wednesday Seminar | Zoom Webinar | 16 December 2020
Just like seven decades ago when the dramatic re-emergence of India and China from their traumatic encounter with colonialism followed by a war between them in 1962 transformed this region's geopolitical landscape, the equation of the two countries is once again poised to influence the future course of Asia. Wider interests demand that both countries craft a tenuous co-existence and stabilize a fragmenting world order. There are also circumstances that are bringing new frictions and differences to the fore as India and China pursue their regional interests and attempt to settle old scores. Although both leaderships have chosen to delicately manage this see-saw, recurring border crises over the past decade have repeatedly questioned whether Delhi and Beijing can maintain such a balancing act for much longer. The emerging multipolar world has brought the relationship at a crossroad where today's choices will set in course events that will profoundly impact India's economy, security and the regional order. It is, therefore, critical that India's leaders get our China policy right.
.
Watch>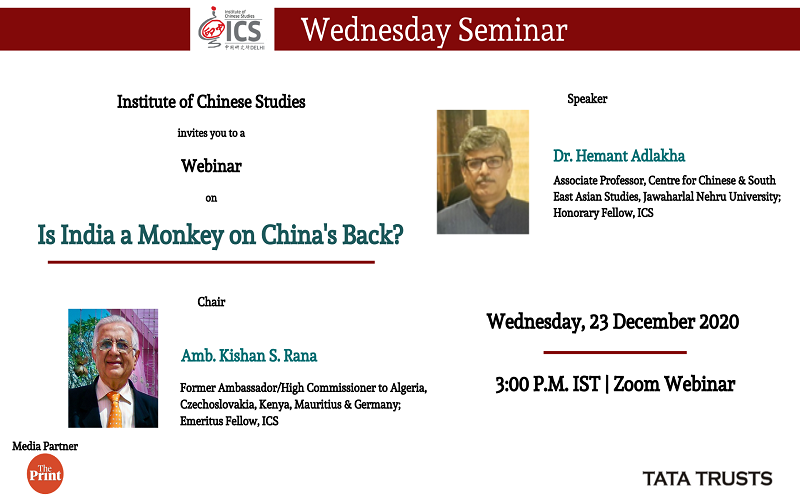 Is India a Monkey on China's Back?
Hemant Adlakha
Wednesday Seminar | Zoom Webinar | 23 December 2020
What began as yet another routine border skirmish along the LAC eight months ago, took an ugly turn with the killing of 20 Indian soldiers on the night of June 14-15. Apparently, "frustration" in Beijing has been growing with a series of military and diplomatic talks resulting in a failure to manage the "crisis" – unlike what was eventually achieved in Doklam. In India, on the other hand, there is near consensus that the Galwan Incident marks an inflection point in India's China policy. At the same time, the narrative in China hasn't toned down a bit, that it is India's growing belligerence fuelled by its ever-closer intimacy with the external anti-China forces led by the United States which is the reason for the unprecedented situation. Further, in recent weeks, particularly since it became increasingly certain not Trump but Joe Biden will move into the White House, there has been an unusual rise in commentaries on India in the Chinese media. An indication that the more China is trying to 管控 or "control" India, the more a "dogged" India is touching a nerve in the Chinese psyche.
.
Watch>