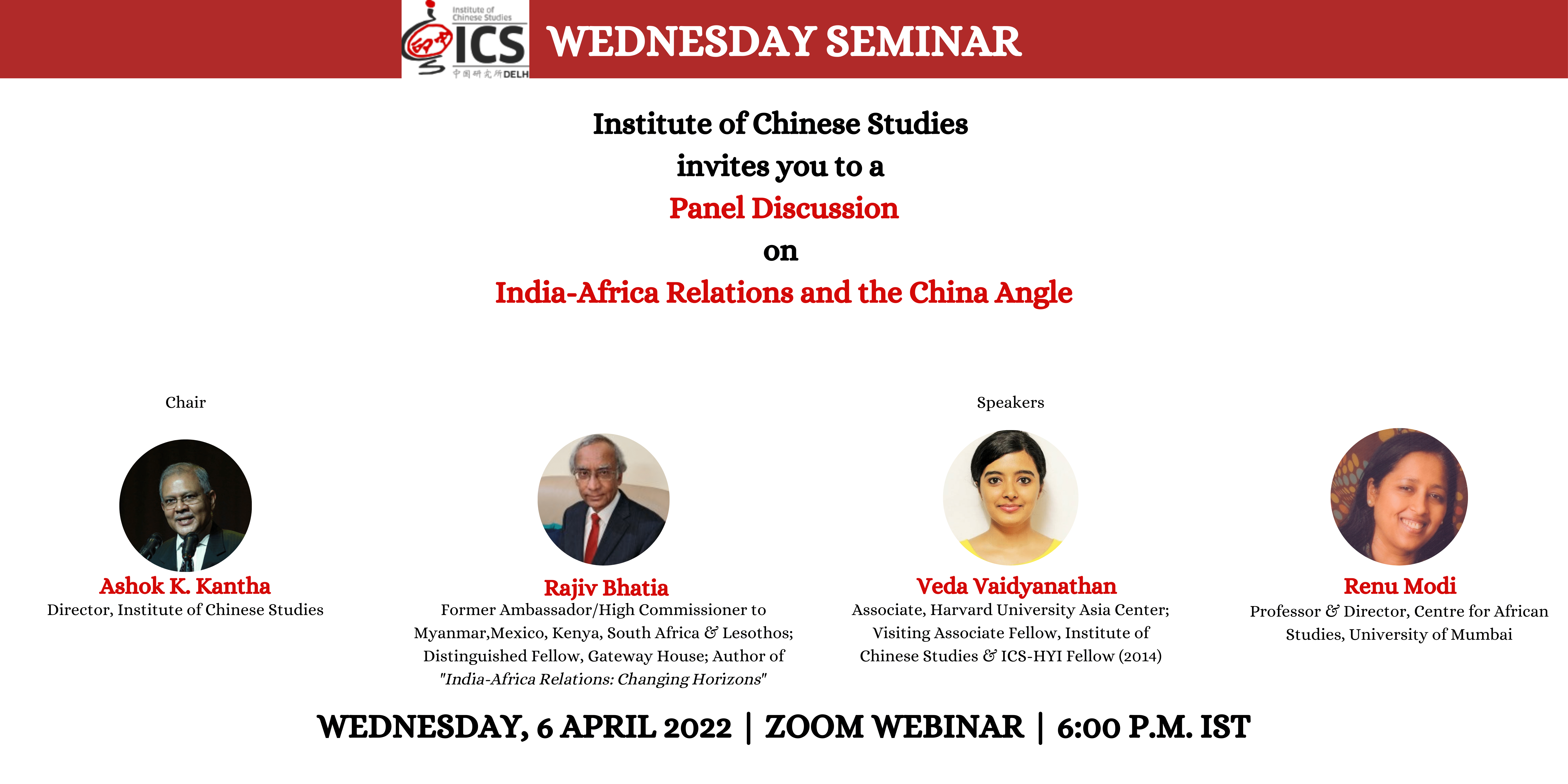 India-Africa Relations and the China Angle
Amb. Rajiv Bhatia, former Ambassador/High Commissioner to Myanmar, Mexico, Kenya, South Africa and Lesothos; Dr. Veda Vaidyanathan, Associate, Harvard University Asia Center; Prof. Renu Modi, Professor & Director, Centre for African Studies, University of Mumbai.
Wednesday Seminar | Zoom Webinar | 6 April 2022
India-Africa engagement can be better studied and appreciated if it is assessed in the larger context of the unfolding changes in Africa and the continent's growing relations with the international community, especially China. How has China been able to craft a formidable, multi-dimensional relationship with Africa within three decades? What are its key features? This seminar attempted to assess reactions to China's engagement with Africa from within the continent and beyond. Another objective was to examine the nature of competition, if any, between China and India in Africa. The eventual goal was to highlight suitable takeaways for consideration by those who are responsible for framing and implementing India's Africa policy.
Watch>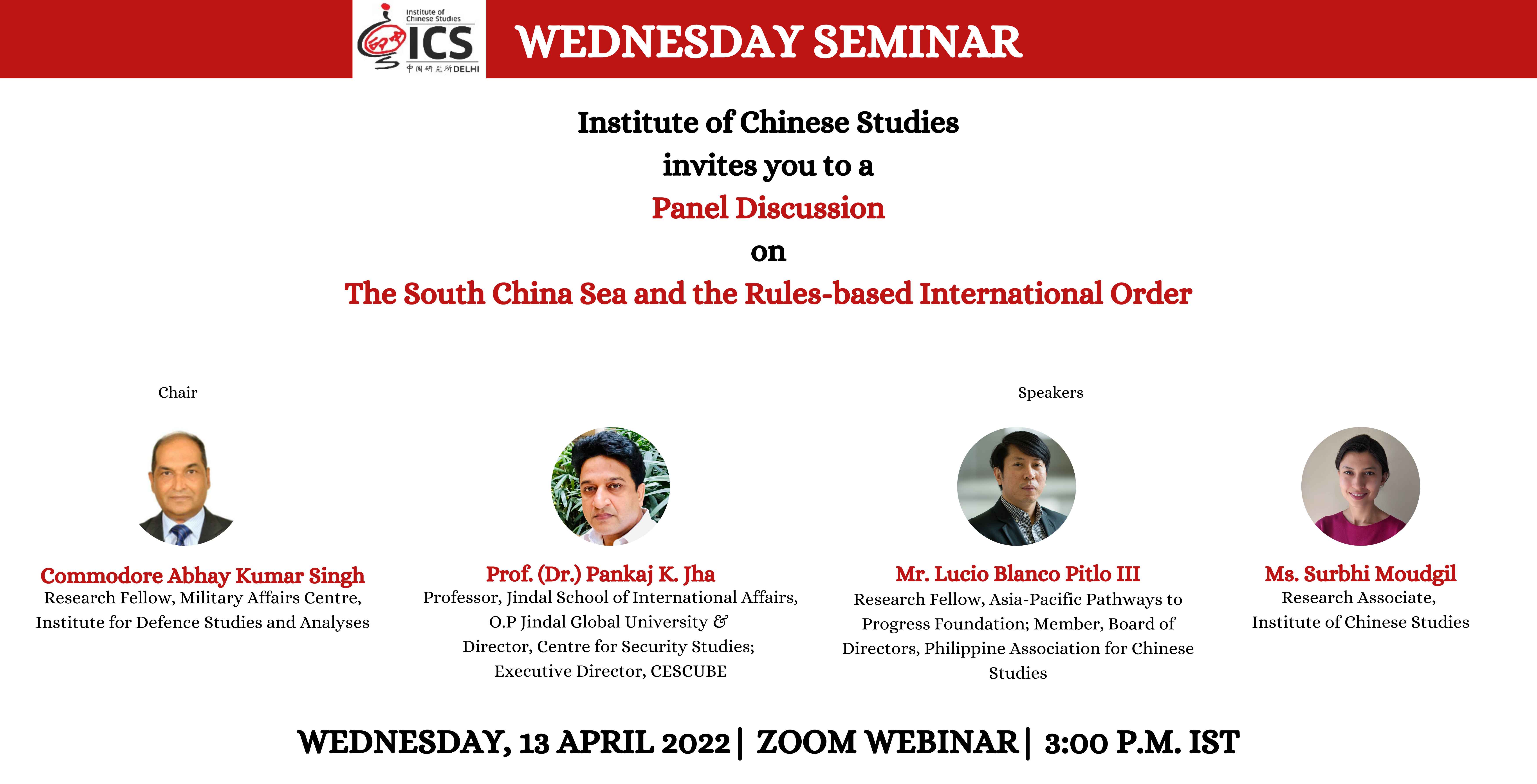 The South China Sea and Rules-Based International Order
Dr. Pankaj K. Jha, Professor, Jindal School of International Affairs, O.P. Jindal Global University; Mr. Lucio Blanco Pitlo III, Research Fellow, Asia-Pacific Pathways to Progress Foundation; Ms. Surbhi Moudgil, Research Associate, Institute of Chinese Studies.
Wednesday Seminar | Zoom Webinar | 13 April 2022
China's sweeping claims of sovereignty over extensive areas of the South China Sea (SCS) and non-adherence of the UN Convention on Law of the Sea (UNCLOS) has far-reaching implications which stretch beyond the region. International law reflects the global distribution of power and defending a rules-based order against China's bid for hegemony in the SCS is critical for upholding international law. The criticality of Southeast Asian countries in upholding the rules-based order has been highlighted by the Association of Southeast Asian Nations (ASEAN) under various initiatives. The webinar discussed recent developments pertaining to the SCS to understand the Chinese presence and how this affects its relations with other stakeholders in the region and the implications for the rules-based order.
Read More>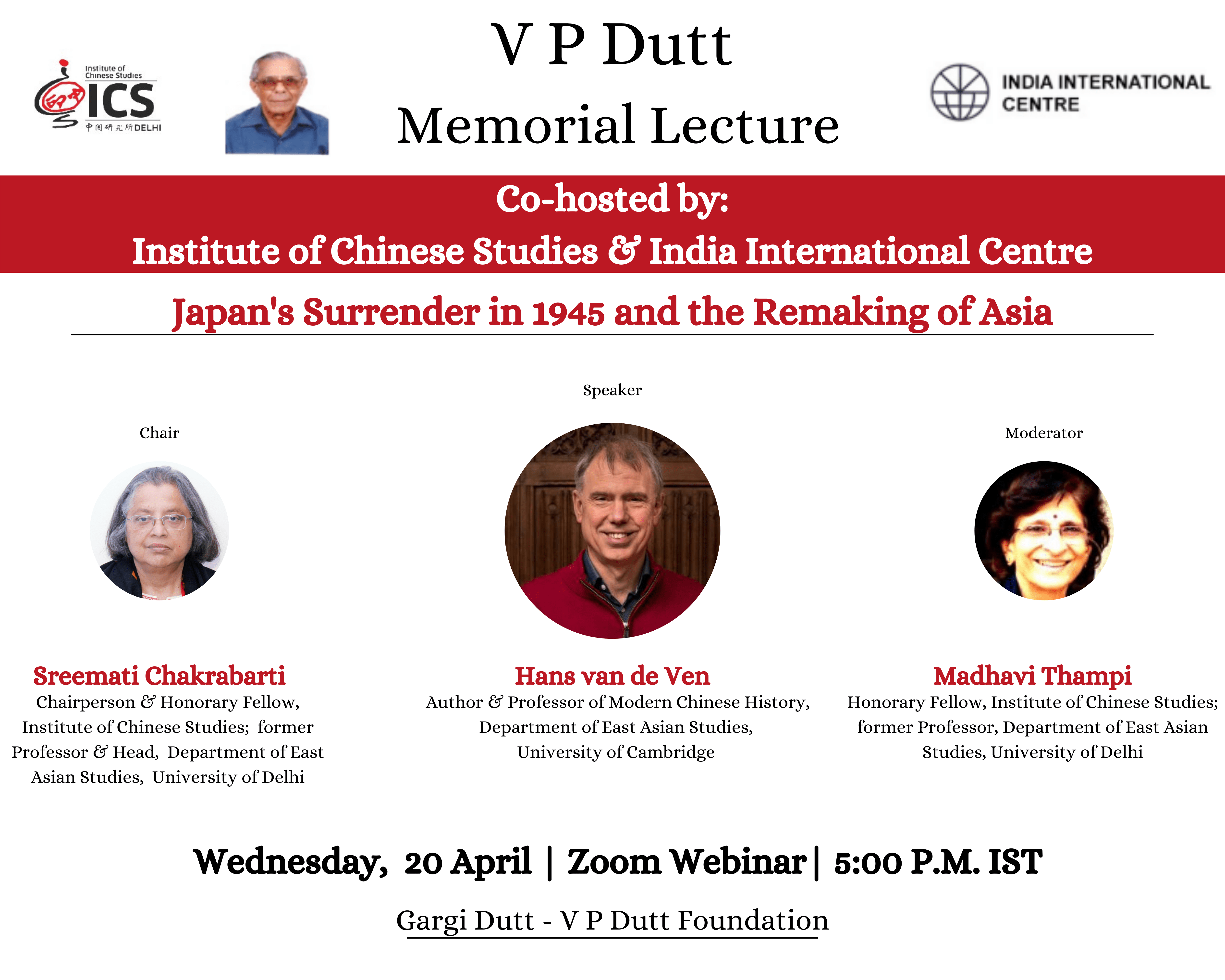 Japan's Surrender in 1945 and the Remaking of Asia
Prof. Hans van de Ven, Author & Professor of Modern Chinese History, Department of East Asian Studies, University of Cambridge.
V.P. Dutt Memorial Lecture | Zoom Webinar |20 April 2022
Japan accepted the allied demand for unconditional surrender on 15 August 1945. Rather than focusing on just Japan and the United States of America (USA) or seeing Japan's surrender as the definite end of the Second World War, in this special lecture, Hans van de Ven examined the complex politics of surrender as various parties in China, Indonesia, and India negotiated this crucial event. He argued that while the surrender signified the definite end of European imperialism, it also saw the beginning of struggles for dominance of forces in each country that had grown strong and had begun to compete with each other during the Second World War in each of these three countries.
Watch>